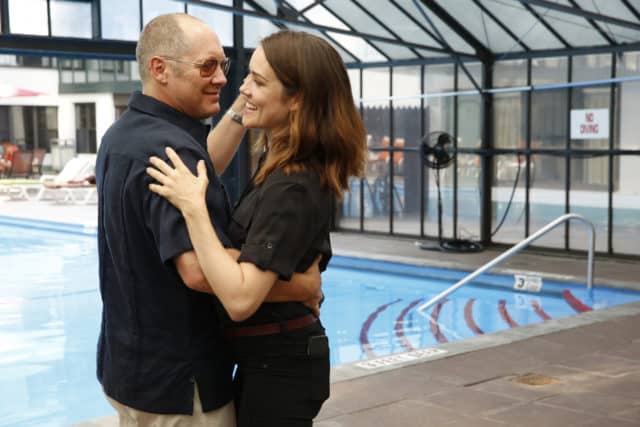 Season 5 of "The Blacklist" premiered September 7, 2017 and ran through May 16 of 2018. The intense drama continues as Reddington seems to unveil one new mystery after another. Each episode is loaded with intrigue, but some were more interesting than others and five of the 22 episodes stood out above the others.
The Blacklist Season 5 Episode 1 – "Smokey Putnam"
The season opener was one of the best kickoffs to a new season yet. Following the death of Mr. Kaplan, the criminal empire of Reddington lie in ruins. He sees the benefit of bringing his newfound daughter on board to assist him in rebuilding it back by locating Smokey Putnam, the most recent blacklister. Aftere Hitchins dies, Ressler finds himself in a delicate position. Tom Keen is back and with him is a briefcase that opens up a new mystery and the question of who was the skeleton in his case? while Samar and and Aram's relationship starts to heat up.This episode was amazing because it contained a little romance, a lot of intrigue and some hard core action and adventure. It's kind of sweet in an odd way that Liz Keen is helping her newfound father to re-establish his crumbled domain. Where will it go from here?
The Blacklist Season 5 Episode 5 – "Ilyas Surkov"
This is the second most exciting episode of season 5. The drama picks up as Liz and the task force have a tense round with the CIA as they'ree attempting to find a blacklister that the CIA also has a vested interest in finding. As it turns out, Ilyas Surkov is an international terrorist. In a big twist, Cooper discovers that the supposed agents they came into contact with are imposters who have their own reasons for hunting their blacklister. In addition, Reddington is trying to find out more about Nick's murder while working on new business for his empire, and he finds a connection with Tom's suitcase and the remains inside.
The Blacklist Season 5 Episode 8 – "Ian Garvey"
In this intriguing episode things get crazy as Tom runs into some big problems in his quest to learn more about the suitcase mystery and about Nick's death. The task force is out hunting for him. Tom and Red are reunited and the two manage to get away, but not for long. Liz is brought into the fight over the suitcase and the bad dream escalates into a nightmare as both she and Tom are badly injured and end up in the hospital. Liz is in a coma and in a heartwarming scene, awakens to Reddington reading to her. It's a climactic episode that concludes with her asking Reddington about Tom, to which he responds that Tom did not survive his injuries.
The Blacklist Season 5 Episode 9 – "Ruin"
Ruin was one of those episodes that was necessary to give us all a bit of a break, but part of its appeal is that we go with Liz as she retreats to Alaska to live in a cabin incognito. She assumes a fictitious name to come to terms with Tom's death. Agnes is left in the care of Scottie so she can have the space she needs. During her stay an ice storm develops. She comes across a man who is seriously injured in the woods. It's snot long before more men arrive, telling her that their plane had crashed. Liz knows that something isn't right, and she is again drawn into a survival game as she learns that the injured man is himself in a federal witness protection program. We didn't get a long break from the action. Liz kills the four villains, then leaves Alaska and meets up with Red again, proclaiming her strong desire to avenge the death of Tom.
The Blacklist Season 5 Episode 22: "Sutton Ross"
This is one of the best episodes of the season because it gives the audience a real cliff hanger to stew about. Sutton Ross kidnaps Liz in order to coerce Red into telling him the facts about the duffle bag. Before Reddington has the chance to tell all, Ross is killed. There are some amazing twists in this episode including the revelation that Liz had been working with Jennifer Reddington and Ross the whole time so they could learn the truth regarding the bones. When the facts are revealed that the bones belong to Raymond Reddington and the man that has been going by his name is nothing more than an imposter.