https://www.youtube.com/watch?v=N6P1cQMdFXA
Season 3 of Black Sails premieres tonight, January 23rd, at 9PM EST on Starz, and from the looks of this trailer, it promises to be an amazing season. Tonight's episode opens in the wake of the burning of Charles Town, where all the New World lives in fear of Captain Flint. However, as he slowly turns into a madman, and new threats emerge that will challenge him as ruler, it's up to John Silver to stop Flint before his war against the world ruin's the lives of everyone around them.
Also, back on the pirate inhabited island of Nassau, Jack Rackham basks in his fortune of Spanish gold while trying to secure his legacy as the king of thieves. At the same time, Eleanor Guthrie is facing her judgment in London. For Rackham to claim title as king, he's going to have to compete with the return of one of the most notorious captains in history, Captain Charles Vane. Everything come to a head when Vane arrives in Nassau to stake his claim.
The exclusive poster from TV Line below offers a snapshot guide to Who's Who on Starz's pirate drama.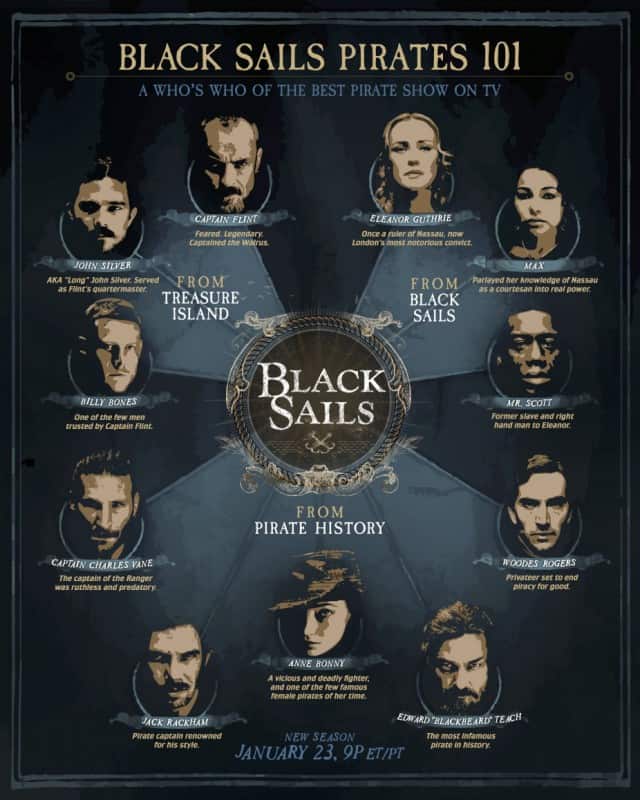 Click on the image for a larger size so you can read all of the character descriptions.