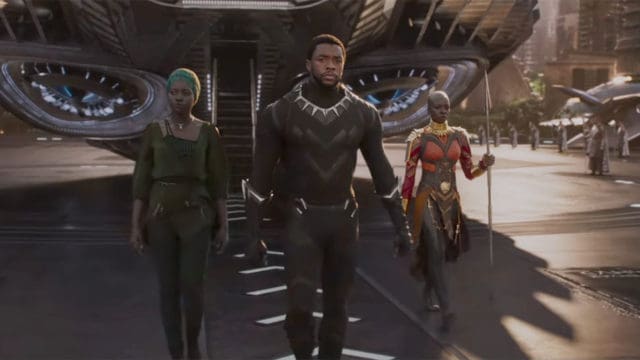 While the Black Panther movie is making history it would seem that its soundtrack is doing the same since it's been at number 1 on the Billboard charts and shows no sign of fading away as the days continue to roll by. This is historic in that it's been a while since not only is the Black Panther a predominantly black movie that's exceeded expectations by so much, but the soundtrack has also gone on to be downloaded and unprecedented number of times since it was released. It would appear that Black Panther was something that a lot of people have been waiting for and are fully psyched to see out and available.
However long it lasts will be duly noted since for a while now Black Panther has been the buzz around the MCU and among film buffs across the board. Many people have felt that black superheroes have been woefully underrepresented throughout the history of cinema and in some cases they're correct, but unfortunately they don't seem to factor in that Black Panther is not the first that's been released. Much as I don't want to keep harping on this, Blade was a Marvel superhero that came in after the Black Panther, but was featured in film BEFORE the idea of creating this movie finally culminated in the stunning movie that just hit theaters recently. The soundtrack for the movie likely didn't see as many sales and I doubt that Blade's attendance was as spectacular as Black Panther's, but as far as being historical in being the first black superhero to lead the way into his own movie it might be time that people refreshed their memories.
I won't even try to deny that Black Panther likely outstrips Blade in terms of popularity and sales, especially since being attached in one way or another to the Avengers has definitely helped boost the already zooming popularity that the hero has had in the past. Being the first ever black superhero is something unique and special and can't be taken away, but he wasn't the first to the box office. Honestly I would be curious to see what might happen if Blade and Black Panther were to come out at the same time. Who might be more popular? At this point many people would say Black Panther, and they would no doubt state that the soundtrack is much more engaging than Blade's, but since there's such a big span of time between them there's no way to make an easy comparison.
The fact is that Black Panther has been awaited since he first showed up in the trailers for Captain America: Civil War, and that alone has kind of negated any thoughts of any other black superhero that existed before him. There's no denying the numbers are greater, the effect of the soundtrack is greater, and the moment at which we stand in history as of now is far more crucial to the success of both the film and the soundtrack. But let's not forget he's not the first at least.
Tell us what's wrong with this post? How could we improve it? :)
Let us improve this post!