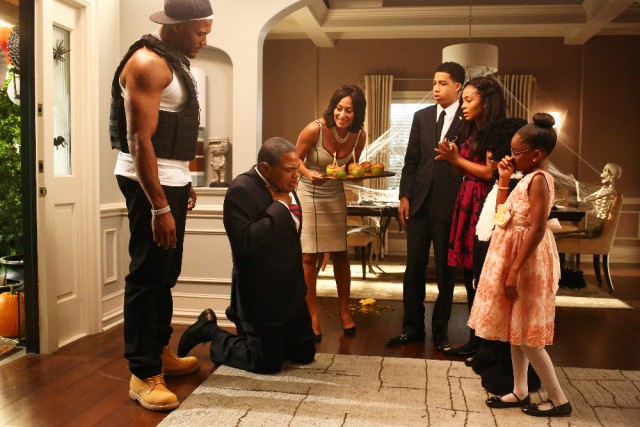 "Jacked O' Lantern" makes no sense. Rather, it makes no sense that anyone involved with the creation of this episode would think this is logical. A half hour constructed around embellished "hood" stereotypes, which Dre ultimately wishes his family would embrace more of? To call this a 'wtf' moment is an understatement: "Jacked O' Lantern" is a shockingly stupid half hour of Black-ish, one that to deliver a real head-scratching episode.
Halloween marks the arrival of the "hood" elements of the Johnson family – aka the poor cousins, who wear knockoff sneakers, have no actual names, and are accompanied by Junebug, who is deemed a massive racial stereotype before guest star Michael Strahan even arrives on screen. From the moment go – where Dre talks about stealing money to go to the "good candy neighborhoods," only to find himself living in said good neighborhood – this week's Black-ish is openly tone deaf, embracing the show's most superficial reflections of Dre trying to "mix" the life he once lived with the affluent lifestyle he has today. I mean, he calls himself an "educated gangster" in this episode, which may be the most delusional thing he's ever said – until the end, of course, when he thanks his cousin, and Black-ish drops one of the most racially stereotyped moments it's ever had.
Junebug's story is one that plagues every single story about an African-American who "makes it out of the hood": one black man's success can only come at the failure of another, a weird sacrifice that only seems to show up in movies with black characters. One's gotta go down so another can rise, a lesson delivered by none other than Jenifer Lewis, who spends the rest of the episode shoving her pretentious Christianity on others, going so far as to hand out Bibles to children as Halloween treats. All of it is a mess – and when you throw in the cousins who are bullies in the vein of their uncle, it becomes the most off-putting, ignorant parody of black narratives in Hollywood you could imagine.
Even the ultimate lesson, only family gets to bully family, because they beat the hell out of everyone else, feels like absolute nonsense, thrown in at the last-minute to try and give some of this nonsense an arc. But the story just doesn't work, because of its sheer ignorance, both in tone and subject, in how it embraces Hollywood stereotypes and the cruelty with which it defines the ancillary members of the Johnson family. It's as distonal as the visuals; I don't know what was going on with the fight scenes or all the green screen outside the Johnson's front door, but none of it does anything but take us further out of the reality Black-ish has carefully built through two seasons, rampaging through it with some of the most disappointing material this show's offered yet.
[Photo credit: Michael Ansell/ABC]