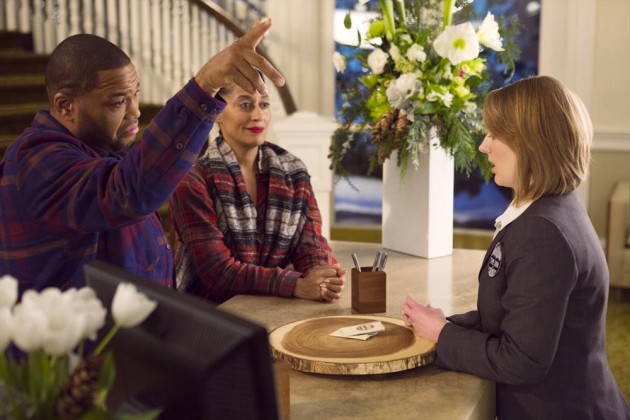 There's something… off about the tone of "Martin Luther Skiing Day", a feeling I couldn't shake from the moment I saw the episode's title. And what followed was a mess of undesirable characters, occasionally interesting conflicts, and a resolution so tone deaf, it undermines any point Black-ish is actually trying to make about race.
The central conceit of "Skiing Day" is quite simple: Andre thinks he needs to school Dre Jr. on the struggle of the black man, so he can understand what prejudice is actually like. Except that since Andre's entered the world of "White" America (by having a closet full of shoes and a Mercedes, lessons we were taught in the pilot), there's no racial conflict to be found for Andre and his son. That doesn't mean Dre doesn't try, and his attempts bring out the most obnoxious, painfully boisterous side of Dre's character, which doesn't bode well for anyone – including the audience, who gets dragged on his self-righteous attempts to be a pompous jerk for a half-hour.
"Skiing Day" is a story done many times before; finding himself living in the peaceful, sanitized, post-modern world of race relations that Black-ish presumably lives in, the only racial drama Andre can find is manufactured, even when it comes to his family (Bow wishes he'd just drop the act so they can enjoy their fancy skiing weekend). In other words, this is an episode with a lot of Dre walking around with a raised voice and a puffed chest, filling the racial profiles he's trying to subvert by embracing said profiles: stealing food from a convenience store, overreacting to a police officer asking for license and registration because their car had expired tags – and as a precursor to a day Dre wants to be a Holiday but treats like a "holiday" (using the air quotes he so hates from other people in reference to Dr. King), utterly fails to recognize that Dre's frustrations come from his ability to have made it out of the vague "struggle" he so frequently references.
And I thought Black-ish was a show about a black man coming to terms with living in "white" society; unfortunately, Black-ish seems tone deaf to what that internal conflict is actually like. The episode tries to hang its hat on an incredibly lame, off-putting climatic scene that tries to recreate the Montgomery bus incident and King's iconic speech in one breath: problem is, it's Junior fighting for snowboarders to sit with skiiers on the bus that's taking them to the top of the mountain. At a fancy ski resort. Where they are clearly the only African-American people around…. Black-ish had nothing to say about that?
Unfortunately, the answer is no: instead, Black-ish follows suit with most previous episodes, introducing some sort of cultural racial conflict through an annoying Dre, who pounds his head against the wall until the show reminds him his kids live in world where African-Americans can be home owners, which completely changes the struggle. Dre Jr. understands the struggle, he tells his father, but given that he fights for the right to put his expensive snowboarding equipment next to the fancy ski equipment of other patrons, it seems Dre Jr. still has a lot to learn about the frustrations of living in a society that's still struggling to rise above attitudes and view points of the past.
Seriously: at no point does "Skiing Day" point out that anyone but Dre knows, or even cares, about the unsubtle racism that still exists in America. I'm supposed to believe Dre Jr.'s never had to confront this (and Jack and Diane, whose names are clearly inspired by the whitest song ever written – that, or the whitest TV love story ever)? Maybe they haven't; but Black-ish is really, really not interested in exploring the financial divide between the struggle Dre perceives in the world his children live in, and the dissonance between that and the realities of Dre Jr. Even if it takes place in the non-logical world of Black-ish, the story still has interesting conflict at the center, something the show only addresses for a half second when the parents wonder what happens when Dre Jr. faces real racism, not something manufactured: but instead, we get Junior raising his voice a little about where to sit on the bus at the swanky ski resort – a wholly manufactured ending in itself, and an off putting ending to an largely unfunny episode.
[Photo via ABC]