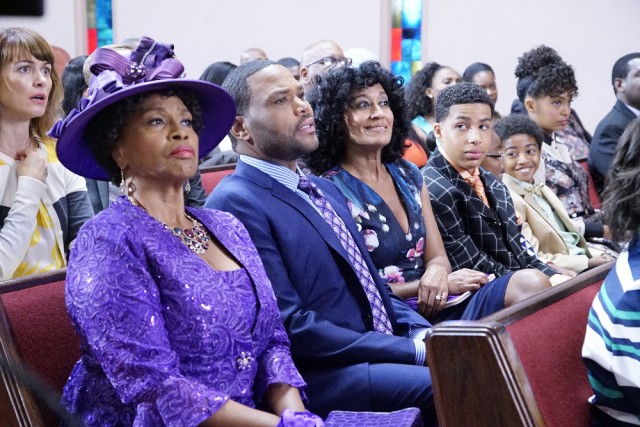 As a sitcom wanting to make poignant statements about race and culture, Black-ish tends to find itself in one of two positions: either doubling down on the perceived priorities of African-American culture, or trying to refute them in an attempt to define the Johnson family as a progressive example of upscale black families. When an episode of Black-ish gets stuck between these things – or in the case of "Churched", doesn't really adhere to either – it feels like an installment without a point at all, limping through its third act on whatever recurring jokes it has running during that particular half hour.
There are a number of imbalanced elements in "Churched," which centers around Bow and Dre's attempts to get themselves excited to go to church on Sundays, opening with a summation on the importance of religion from slavery to civil rights. However, they never mentioning how Christianity was forced on slaves in the first place, or how slaves had hidden "Invisible Churches" late in the evening… another conversation for another day, I suppose, one Black-ish abandons in favor of pumping out stereotypical jokes about "white churches" and "black churches."
I suppose there's something to the lack of general distinction made between the two. White churches are all about repetition and quick services (Presbyterian churches, at least – this was not a Catholic mass), while black churches are loud, bombastic, and carry on for the entire day. Regardless of whether these cliches are true or not, Black-ish doesn't really engage with them in any kind of way, lampooning religion through the entire episode. All the while, Dre and Bow keep insisting they want to find a church that works for them, even though they never actually discuss religion at all, and whether it's right for them to introduce something like that to their children or not.
Instead, "Churched" goes for the lowest common denominator of punchlines: Ruby gets to yell and scream, Junior gets made fun of for being nerdy and whiter than the rest, and in the end, Dre and Ruby can't figure out what church works for them. To call this an anti-climatic episode is almost a compliment to the flat line, both in comedy and story, that "Churched" is. Not engaging with the actual idea of religion is probably a smart one, but that also begs the question why Black-ish had to integrate a story about church into what's really a story about Dre and Bow's inability to say yes to anybody's invitations in the neighborhood.
That single idea could play out in so many more active, interesting ways. Instead, "Churched" spends most of its time trying to distract itself from larger ideas, or even engaging further with the best moments it offers, like Diane's sudden antagonist streak (she's in court-mandated therapy?) or the fact that the couple they invite to black church are "better" at it than they are . Also, with no Laurence Fishburne around to bring a little nuance to Ruby, there's no inter-generational material (arguably Black-ish's strongest suit) here at all to bring a broader perspective to the story. It's really just "Dre and Bow are tired of being anti-social – look what wacky stuff happens when they go to church! From beginning to end, "Churched" feels under-cooked, both in the topics it tries to engage with, and how it delivers what story it does try to offer.
Other thoughts/observations:
This episode has a severe lack of Zoey, Pops, and Charlie.
Best joke of the episode? Everyone at work getting up in arms when Lucy calls herself a Jew multiple times.
Have they just given up on Junior as a character?
[Photo credit: Kelsey McNeal/ABC]