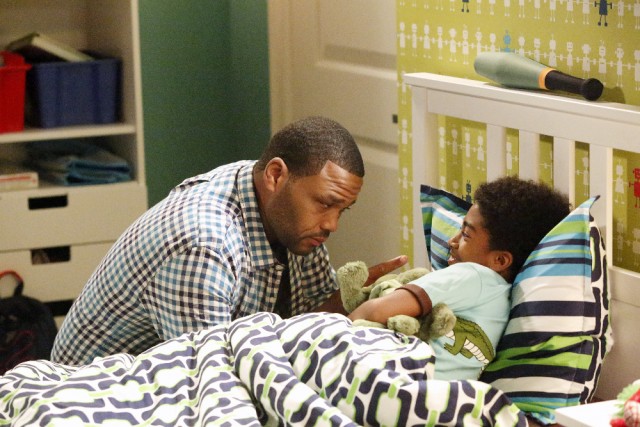 Given Black-ish's general disinterest in engaging with its cultural examinations on a deep, engaging level in its first season, how "The Word" plays out is an extremely promising sign for the show. However, it's the tweaks between seasons to the show's formula that's even more encouraging. At its heart, Black-ish wants to be a show that explores the generational differences in our approach to racial identity within American culture. Too often in its first season, it isolated those generations (or in the case of the eldest, didn't feature them at all) in different stories, ignoring anything but the most obvious cross-examinations of parent and children. "The Word" is a much more balanced approach to storytelling and cultural observation, and it makes all the difference in the episode's success.
For a season premiere, "The Word" is remarkably bold, both in its subject matter, and the ideologies it presents as it explores the use of the "n-word" in 2015 culture. When Jack gets suspended for performing the explicit version of Kanye West's "Gold Digger" at a school talent show, he faces expulsion under the "no tolerance" policy Bow hilariously fought for years earlier. Immediately, "The Word" begins to engage with the many dichotomies in everyone's individual philosophies surrounding the word: Bow thinks it has no place in the world, while Dre thinks it is important to say it as part of redefining the word's nature, and his parents refuse to admit how often it's featured in their own vocabularies. And of course, then there's Dre's white colleagues, who have no idea how to even approach the topic.
Last season, this would've led to an angry Dre rampage, with all the immature regression and slapstick that went along with it. "The Word" takes a vastly different approach: instead of Dre the instigator, "The Word" offers us Dre the inquisitive, and it makes all the difference. Humor flows from the debates he has with co-workers and family members, and it leads to a monologue that on many other family shows would feel preachy and reductive. When Dre tells the board that it makes no sense how Quentin Tarantino can win Oscars for writing that word over and over, yet Dre's eight-year-old son could get expelled for a mishap during a musical performance, Anthony Anderson's performance turns it into one of the best scenes of the show.
That scene speaks to something beyond just the "n-word" debate: it speaks to the inadequacies of judgment faced everyday by those in this country who find themselves in the minority of any given situation. The debate Dre finds himself in with his parents, colleagues, and school board members is really a gateway to a much larger observation about society, and how hard it can be to find simple truth when hundreds of years of ugly history and complicated non-written rules cloud an issue. Rules defined by white culture, I might add, and as Dre considers that important distinction, he delivers arguably the most effective cultural examination Black-ish has ever offered, one that comes without the normal complications or nonsensical "hilarity" Season 1 tried to temper scenes with.
There is a time for humor, of course, and when "The Word" isn't checking in on lame Junior or a thoroughly disinterested Zoey, it's an episode that offers plenty of hilarity with its poignant observations, heightening the reality the show lives in, without cheapening the points it wants to make about racial inequality. And it finds those by juxtaposing the generations and races against each other. Rather than engage characters in ugly, anger-driven scenes about race, Black-ish remembers it is still a comedy – just not one that has to undermine itself by turning Dre into an idiot lunatic in the process (it does so a little with Bow, but Tracee Ellis Ross is more equipped to make this material fun and endearing, rather than grating).
"The Word" opens Black-ish's second season on an extremely high note, and it's not just because of the re-emergence of Laurence Fishburne as a main cast member (but boy, does Pops balance out Ruby's over-the-top character; that alone makes this episode more watchable than last season). "The Word" offers a glimpse at a Black-ish that wants to be something more, one that wants to engage with the difficult intricacies of modern racial dynamics, unearthing simple truths and injustices, while still remaining a fun, entertaining – and non-preachy – family comedy. That's a tall task, but with a streamlined plot, concise character development, and a clear train of thought, "The Word" hopefully represents a new blueprint for the season to follow.
Other thoughts/observations:
The "30 Seconds Ago" flashback was killer. Hilarious delivery by Jenifer Lewis, who tones down the Ruby-ness of her performance a necessary 10% in this episode.
Junior's storyline is dumb, but him getting in the shower with Dre is a riot.
Mr. Stevens spending $500,000 to say "United Negro Fund" is a great representation of how desperately white culture wants to use 'the word' again.
"Big Pun, Fat Joe can… Matter of fact, the whole Terror Squad can say it."
Charlie pulling a gun when he hears the word "colored" is the kind of absurd humor I can get on board with.
Welcome back to Black-ish reviews! Despite my frustrations with last season, I have high hopes for this show's sophomore effort.
[Photo credit: Kelsey McNeal/ABC]