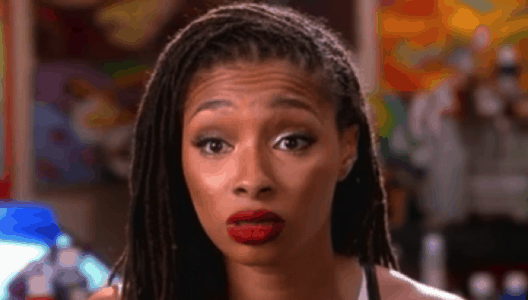 Since premiering in 2013, Black Ink Crew has given viewers a very interesting perspective on the world of tattoos. However, aside from their love for all things ink, the cast has also taken viewers on a wild ride full of laughter, drama, and tears. Last season, shop owner, Caesar and his boo, Dutchess (the self-proclaimed queen of the shop) had their fair share of ups and downs, not only with each other, but with the rest of the people in the shop. Although things seemed to end on a good note at the end of last season, previews have already indicated that things have certainly changed. With the addition of at least one new cast member, and egos that are constantly growing, this little shop in Harlem is going to be turnt. Here are five predictions for season four of Black Ink Crew.
Dutchess and Caesar will call of their engagement
If you've been watching this show since season one, you've probably spent a lot of time shaking your head at Dutchess and Caesar's relationship. Sure, they're cute together (sometimes), but they've got a lot of issues that are starting to seem irreparable. Well, those issues are certainly going to multiply this season. Apparently, Donna and Dutchess are going to hook up (yes, you read that right) and there's also going to be some rumors going around that Dutchess and O Sh*t have also hooked up. Now of course, neither of those things will probably sit well with Caesar, and there's a good chance their engagement will be put on an indefinite hold.
Caesar and Puma will make amends
Am I the only one who actually thinks it's sad how much Caesar and Puma's relationship has deteriorated? It's been pretty frustrating watching them fight over the last couple of seasons, and although it seems like their friendship has reached the point of no return, I'm really hoping that they'll pull it back together this season. Previews indicate that Puma will open a shop (one that's actually his this time); however, a shooting will put everything in jeopardy. Maybe after this extreme incident, Puma and Ceas will be able to sit down and hash out their differences like grown folks. I'm not saying they'll go back to being besties again, but maybe they'll at least be able to peacefully co-exist.
Puma will lose his family…again
In his efforts to ruin Caesar's business, Puma can't seem to realize that he's ruining his own life. After temporarily moving out of the city, Puma's girlfriend, Quani, returned with their daughter and decided to stick things out as a family. However, after the shooting at Puma's shop, and his ridiculous behavior in general, there's a good chance that Quani could decide to dip again. Plus, if Quani's mom has anything to say about it, Quani and her daughter will be out of NYC before Puma even knows what happened.
O Sh*t will get fired from the shop
Since season one, O Sh*t has struggled with countless issues. Between his alcoholism and his baby momma drama, this dude can never catch a break. Well, it looks like this season won't be any different. Not only will he start drinking again, but there will definitely be some tension between him and Cease, especially after Cease finds out that Dutchess and O Sh*t may have hooked up in the past. With all of the drama that O Sh*t has brought to the shop, it won't be the first time he's been fired – but it could be the last.
Dutchess will lose her seat on the Black Ink throne
Since coming to Black Ink, Dutchess has declared herself the queen of the shop. There's no doubt that she's a very talented tattoo artist, but her attitude has made her very difficult to get along with. Well, now that Dutchess has been spending a lot of time in North Carolina working on her own shop, and Caesar has hired a new female artist at Black Ink, it looks like Dutch's position as queen of the shop could be in jeopardy. But if you know anything about Dutchess, she definitely won't be going out without a fight.
Tune into the Black Ink Crew season 4 premier at 9PM EST on VH1
lead image via www.fashionnstyle.com