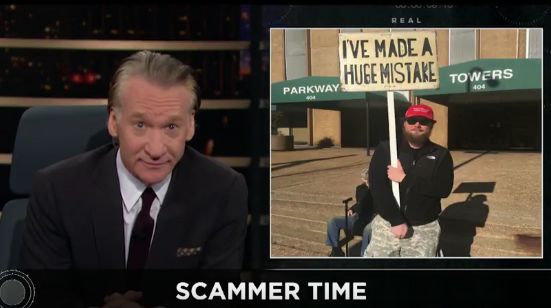 Let's just say that Bill Maher was never, never will be, and isn't exactly the biggest Donald Trump supporter out there. In his closing segment on Real Time with Bill Maher, the host went into a tirade about "Conman Trump." He began with a picture that went viral on the internet of a person carrying a sign in front of Trump Tower that said "I've made a huge mistake." Maher not only commended the man for the sign but also for spelling everything correctly.
From healthcare reform to the price of pharmaceuticals, Maher went on a rampage about how Trump has consistently conned his supporters ever since the election and is doing it even more now. But in particular Maher took aim at Trump supporters themselves.
"I know you real Americans hate being called stupid, [but] you gotta meet me halfway and stop being stupid," Maher said. "I would say that Trump is a used car salesman but with a used car salesman at least you get a car. With Trump, you don't get any car but you definitely get taken for a ride."
Maher close with:
"So, what do you like better: 'winning so much you're tired of winning' or having your 'head spin'?" he asked. A montage of Trump using those phrases climaxed with one of the POTUS saying, "I will give you everything! I will give you what you've been looking for for 30, 40, 50 years."
Check out the clip below:
Tell us what's wrong with this post? How could we improve it? :)
Let us improve this post!