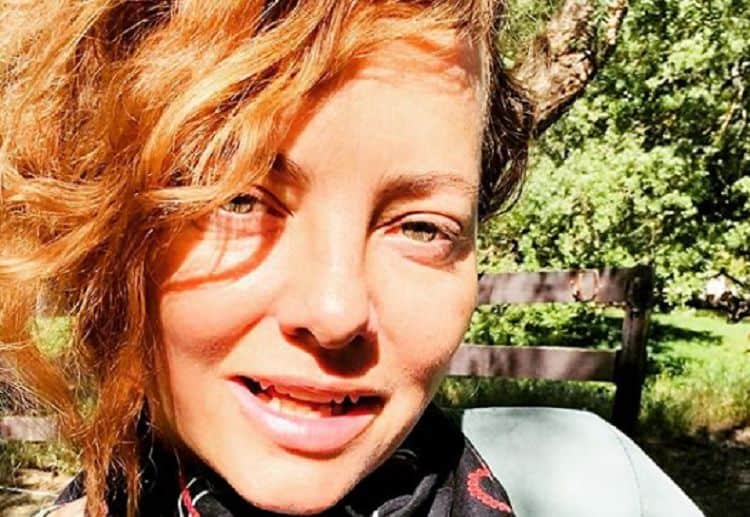 She may never be an A-lister, but Bijou Phillips will always be a part of Hollywood culture. The actress and socialite has been active on and off in the industry since 1994, and if you don't know her name, we're fairly sure you'd recognize her face. Bijou has been in the news lately after her mother, South African model Genevieve Waite, passed away. According to Heavy.com, Waite was 71 years old when she died. Bijou was only 14 years old when she first came on the Hollywood scene, but now she's an entirely different person. If you didn't know or probably just forgot, here are a few things to remind you who Bijou Phillips is.
1. She was a model first
It seems fitting given that her mother was a model herself. Bijou's first professional job was a cover on Interview magazine when she was only 13 years old. Shortly after that, Bijou was featured on the cover of Vogue's Italian edition. That Vogue cover made Bijou the youngest model to ever appear in the magazine's history. However, Bijou had expressed how much she disliked the modeling industry. She left modeling to pursue something else entirely.
2. She was a recording artist
Bijou was only 17 when she released her first recording album, I'd Rather Eat Glass. This article from The Hartford Courant compared Bijou's musical style to Fiona Apple and Natalie Imbruglia. Although some people regarded her album as slightly immature, many predicted her music career to really take off. However, I'd Rather Eat Glass remains to be Bijou's only full-length album to date, and that album was released in 1999. The album was meant as a stab at her past as a fashion model and the industry in general.
3. She was a wild child
Most people would naturally associate Bijou with being a wild child. She got this name after moving out of her home when she was only 14 years old. She got her own apartment with a housekeeper and lived a lavish lifestyle. She was known for doing drugs and living it up in the New York City party scene. It was all over the tabloids when she lost her virginity to The Lemonheads' singer Evan Dando when she was only 15 years old. Dando was 28 years old at the time.
4. She's got popular family members
Bijou herself isn't quite the most popular girl in town, and some of her family is in the same boat. Aside from her model mother, Bijou's father was John Phillips from The Mamas & The Papas. Two of her half siblings made a name for themselves as an actress and singers. Mackenzie Phillips is known for American Grafitti, One Day at a Time, and So Weird. Chynna Phillips is known for being a third of the famous female vocal trio, Wilson Phillips.
5. She starred alongside big names in her first movie
Bijou had a natural knack for playing certain characters. Perhaps the role came easily for her in her first major film, Black and White, because she was paying a girl from the Upper East Side, who found herself entangled with the wrong crowd. That movie highlighted her acting skills, and that wasn't easy to do considering she was acting alongside Robert Downey Jr., Brooke Shields, and Elijah Wood. While her role may not have been one of the main characters, Bijou did well enough to be noticed by critics and viewers alike. This review of the film basically said it all about Bijou's performance in Black and White.
6. She's had a regular acting career
After her crazy early days, Bijou actually managed to turn it all around and made a steady living working in film and television. She may not have done anything extremely remarkable. But from time to time, Bijou did impressive performances that made people definitely look twice. Bijou regularly acted from 2000 until 2014 when the show Raising Hope ended.
7. She was born with bad kidneys
According to this article from Fox News, Bijou was born with bad kidneys. According to her husband, Bijou wanted to live a stress-free life because of her battle with kidney disease. The timing was aligned with her acting hiatus, which probably exacerbated her disease. During that time, she began a vegan diet and got regular dialysis. Bijou received a kidney transplant on April 7, 2017.
8. She's been accused of violence
It's not quite out of character, but it's also a little surprising. Bijou has been accused of physical assault and bullying a couple of times. Co-workers made both accusations and both supposedly happened on set. The first incident happened in 2017 on the set of the movie Bully. Actor Daniel Franzese added that Bijou also mocked his weight and sexuality. Actress Heather Matarazzo also said that Bijou assaulted her while shooting the movie Hostel: Part II. That happened around the same time as Franzese's accusations.
9. She's now a wife and a mom
Bijou married fellow actor Danny Masterson in 2011. Masterson is most famous for her role in the hit TV show, That 70s Show. Bijou and Masterson started dating in 2004 after meetin in Las Vegas. They got engaged in 2009 and got married in 2011. Their wedding was held in a private castle in Ireland. Three years later, the couple had their first and only child Fianna. The couple has been together for about 15 years now and married for 8 of those years. Their daughter Fianna is now 5 years old.
10. She's a scientologist
Bijou is a practicing scientologist as well as her husband. The Church of Scientology has received a ton of backlash in the media during the last few years due to controversial practices and behaviors. There are quite a few other popular names in Hollywood that follows scientology. Some of those include Tom Cruise, John Travolta, and Juliette Lewis. A longer list of celebrities has left scientology and is vocal in their distaste for the organization. That list includes names such as Jerry Seinfeld, Demi Moore, and Leah Remini.
Tell us what's wrong with this post? How could we improve it? :)
Let us improve this post!