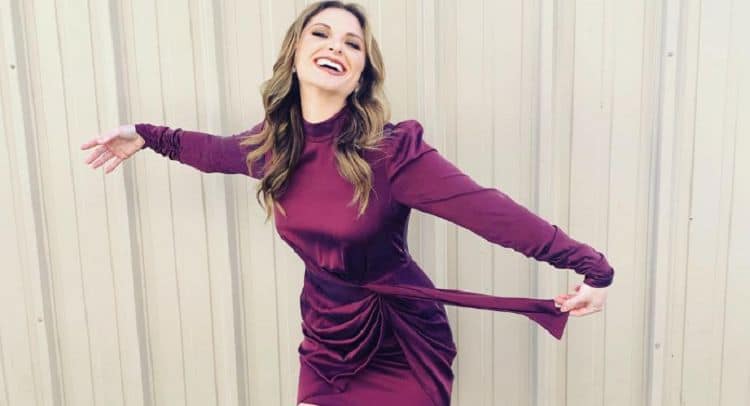 Spending hours upon hours watching reality TV is usually seen as a waste of time, but Lauren Zima has managed to turn it into a very lucrative career. Her love of The Bachelor has resulted in her getting her own recap show, and now she's an important part of The Bachelor universe. On top of that, she has even started dating the show's host, Chris Harrison. Although rumors recently implied that the couple had gotten married, they have since denied that. There's no word on if there are any wedding bells in the future, but there are a lot of fans who would love to see them get their happily ever after. Here are 10 things you didn't know about Lauren Zima.
1. She's An Illinois Native
Lauren was born and raised in the Chicago area. We weren't able to find any information on her family or upbringing, or what inspired her to get into the entertainment field. Like most people in the industry, she eventually made her way to Los Angeles where she currently lives.
2. She's A TikToker
Over the last couple of years, TikTok has become increasingly popular. Although it typically draws a younger crowd, Lauren has managed to find lots of success with her videos. Lauren has more than 44,000 followers on TikTok and her content has gotten more than 690,000 likes.
3. She Has Some Acting Experience
Journalism is what most people tend to think of when it comes to Lauren, but she has also done some acting as well. In fact, her LinkedIn profile states that she studied improv at the Upright Citizens Brigade. She made her on-screen acting debut in 2008 in a movie called Box Elder. She also played various roles in the series Disaster Date. Lauren hasn't had an acting role since 2011 and it doesn't appear that she has any plans to return.
4. She Likes To Stay Active
Maintaining a regular workout routine isn't an easy thing to do when you have a busy work schedule. Although Lauren may not always be able to get to the gym, she still likes to stay active and get a solid workout whenever she can. She even enjoys doing outdoor exercises such as biking and hiking.
5. She Loves Being Near The Water
Two of the best things about living in southern California are the beautiful weather and the beautiful beaches. Lauren takes advantage of both of these things whenever she gets the chance. Whether it be boating, swimming, or simply going for a walk at the beach she always looks forward to getting to hang out near the ocean.
6. She Studied Journalism
Some people may be under the impression that Lauren isn't a 'real' journalist, but she's actually put in lots of work to hone her skills. Lauren has a bachelor's degree in journalism from the University of Missouri-Columbia. She also has a master's degree in broadcast journalism.
7. She Loves Connecting With Fans
Lauren is thankful for all of the love and support she's gotten over the years and it isn't something she takes for granted. She looks forward to any chance she gets to interact with her fans and it's fairly common to see her responding to questions and comments from supporters on Twitter.
8. She's A Brand Ambassador
The success that Lauren has had in the journalism world has also translated into success on social media. In addition to having a large following on TikTok, she's also really popular on Instagram. She has nearly 200,000 followers on the platform and that has given her the opportunity to work with companies to help market their products. She is currently a brand ambassador for a wine company called Drink Babe.
9. She's A Fashionista
Lauren may not technically work in the fashion industry, but that has never stopped her from showing off her sense of style. She loves getting dressed up for special occasions and she always shows up and shows out any time she steps foot on a red carpet. One of the things that viewers always seem to love about her is that she isn't afraid to try fun colors and patterns.
10. The Bachelor Isn't The Only Reality Show She Likes
Her work with The Bachelor is what Lauren is most famous for, but it isn't the only TV show that she can't get enough of. In an Instagram story, she revealed that she's also a fan of The Real Housewives Franchise and 90 Day Fiance. If you're familiar with either one of those franchises you know that it's nearly impossible not to get sucked in.