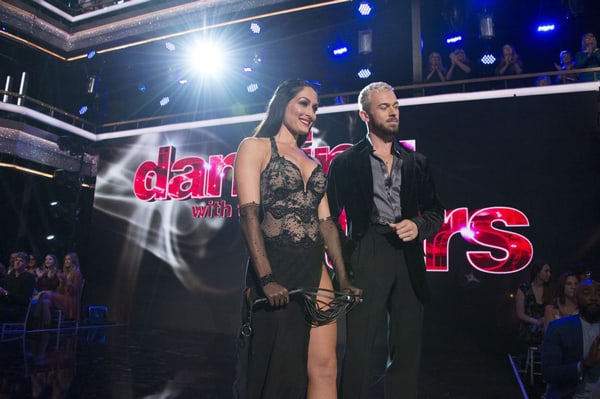 Dancing with the Stars has become a phenomenon. It's been truly a pleasure to be able to watch our favorite celebrities dance their way to even more stardom. Everything about this show–the music, the choreography, the costumes–they're all dramatic, intense, and inspiring. However, it isn't a perfect show, especially since it relies heavily on the judging capabilities of America to figure out who moves on and who stays. America may think that they're dance experts, but there are times when they've completely missed the mark. Here are the biggest mistakes in DWTS, when stars have been voted off too soon.
Maureen McCormick
She's not Marcia Brady anymore, that's for sure. And when the 60-year old actress danced on screen, she did not look her age at all. The performance that got her eliminated was incredibly entertaining; we're not entirely sure what happened. All we know is this, when Maureen McCormick got eliminated, it was a big shock to us all. This dance was the tango, and McCormick definitely finished strong
Nikki Bella
This superstar wrestler is stunning on any stage, and although she lacked variety on DWTS, we believe that she could've done more. After all, it's not always on the dancer but also on the choreography, right? When Bella got eliminated after dancing to Bette Midler's I Put a Spell On You, she wasn't bad at all. But somehow the judges just thought she wasn't good enough. We thought otherwise, and we though she probably could've just been given better direction next time.
Heather Morris
Okay, so many thought it was controversial to hire Morris for the show being that she's a renowned dancer herself. However, celebrities are celebrities, and who knows? Maybe Morris hadn't danced in a while. For someone like her, dancing must be like riding a bike because she was stellar on screen–regardless of previous dancing experiences.. The most shocking part was the fact that she got the first perfect score in the show. She gets sent home right after this perfect score.
Elizabeth Berkley
The former Saved By The Bell star was definitely eliminated too soon. She was a steady performer for nine straight weeks, always at the top of the leaderboard. But then all of a sudden, she was eliminated in week 9 of her season–that was after a great performance as well. We're not sure why that was so, but maybe it was because she just wasn't a fan favorite altogether.
Brandy
This was probably one of the most shocking eliminations of them all. This elimination actually prompted conspiracy rumors among many fans. Brandy had been steadily performing excellently, receiving the highest scores, and even receiving a perfect score in the semi-finals. Brandy was eliminated in favor of Bristol Palin, who was always got low scores–the complete opposite of Brandy. It got so serious that the producers of the show had to go on record to say that the voting system had not been tampered with.
Tell us what's wrong with this post? How could we improve it? :)
Let us improve this post!