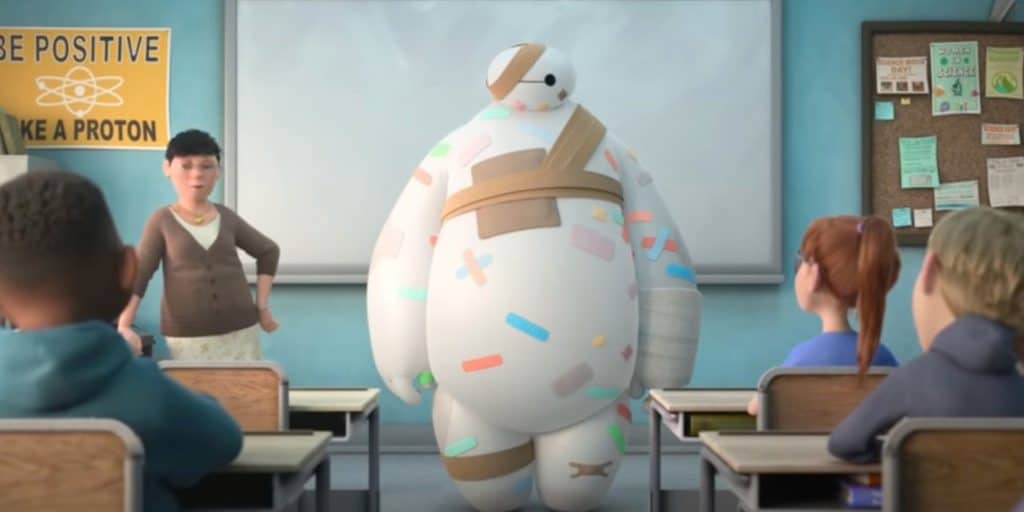 This could be interesting, but so far there's no sign of Hiro or anyone else other than Aunt Cass, who was originally voiced by Maya Rudolph. Instead, we get to see Baymax interacting with an elderly lady, Aunt Cass, and even the customers as he attempts to play the part of a barista. However it might go, the Baymax series will be headed to Disney+ in the summer of 2022 for the enjoyment of the fans. It's not really surprising that this character would be embraced since much like many other Disney characters, Baymax managed to gain a lot of fans back in 2014 when the movie came out, and kids that were young at that point and have grown up a little at this point have remembered Baymax fondly and have been following the story since. From 2017 to the current year the show was still a popular program that people kept watching since the truth is that even as an adult, this an entertaining show. The initial story that involved Hiro, his brother, and the group of exceptional students that would comprise the superhero group was one that was built on tragedy, as is common among many Disney movies, but it could turn into something else that might lead into another movie.
How well that might go is hard to say, but it does feel like a worthy endeavor at this point that will lead to other spinoffs that are apparently coming from other Disney classics, which could increase the interest of the fans and keep Disney+ rolling along in an even better position by taking advantage of its truly popular properties. It's an interesting thought, to be honest since taking on a greater depth with some of the stories by telling tales that are either directly connected to the main story or are related but not in a direct manner. When one looks at the many Disney stories that are out there, it's easy to think that there are a number of ways to expand on one story or another by looking at things from a different perspective.
The main movies are the catalyst for an expanding universe that begins to include one story after another, showing how things might have aligned to create the original story and therefore create the world in which the main characters exist and had to come up in one way or another. It could be that I'm thinking a little too far into the future, but it does feel as though Disney is looking for a way to connect certain stories by expanding them in this manner, so that perhaps, one of these days, we'll see various characters actually interacting with each other in a way that might feel natural and organic, rather than forced and bound to the Easter eggs that so many people tend to go looking for whenever a movie comes out. Big Hero 6 has plenty of them, just like any other Disney movie, but the connections between Big Hero 6 and the rest of the Disney universe are kind of tough to see at times, even though it would be kind of simple to make it work.
Perhaps in the Baymax series, we'll see another way to connect things, or maybe it will just be another way to expand the actual story, but to be fair, many Disney stories are designed to be standalone stories that could possibly have a connection with each other but are separated thanks to various factors. If the many different stories were somehow tied together it does feel as though it might become a bit of a mess, but with a skilled hand and enough talented writers on board, it could be something that might be able to wow the audience once again and perhaps introduce a level of connectivity that people might find endearing. After all, there's nothing to say that one story melding with another couldn't go on its own path once again. But with Baymax and Big Hero 6, it feels as though the story might actually stand on its own for a while longer before being asked to do such a thing if it ever does happen. Again, that might just be wishful thinking as a storyteller, but it does feel as though Disney might have toyed around with the idea more than once.
Next summer sounds like it might be a lot of fun when it comes to the various shows coming out, and it will likely be a busy time for Disney as well between the various movies that will be on the way and everything else that might be happening. A lot of fans are likely going to be waiting patiently, or impatiently, for Baymax to return, but hopefully, there will be an explanation as to why we don't see the others in the picture at the moment.
Tell us what's wrong with this post? How could we improve it? :)
Let us improve this post!