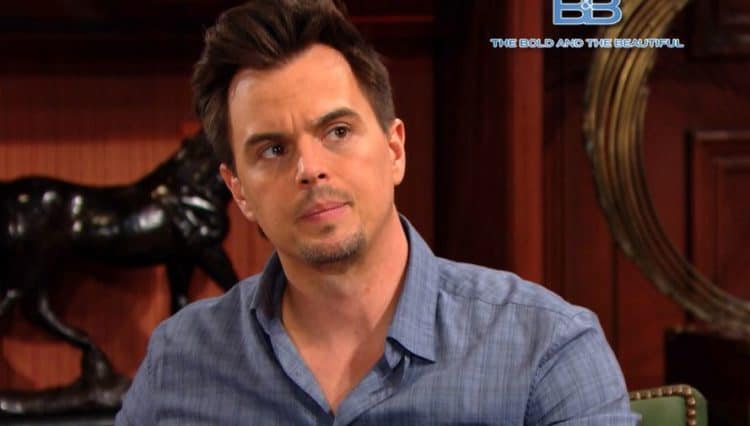 The Bold and the Beautiful fans have been watching things unfold in a very emotional light. It's not been an easy situation for anyone this last week or two. Hope was in the middle of her own wedding when her almost brother-in-law interrupted things to tell his brother that the only reason Hope and Liam were even getting married was all based on a lie that was told by Bill. Wyatt could not keep this secret any longer, and we think at least two relationships are over because of it. For one, he and Katie will not make it any longer. They are not going to make this work now that Katie has realized that Bill is right about them and their love for one another. They have a lot more to go on, but it won't go well for them.
And then there is the fact that we were all so excited to watch Liam and Steffy take their daughter home. Maya made it clear to a very hopeful Steffy that she and Liam both need to remember that this baby comes first and foremost, and that their own personal problems need to go far away and not allow them to make a mess of this baby's life. They are going to make her life a good one if they can, but they have to focus on what they want as people, first. And then we watched as Hope decided that she could not be with Liam, and walked away. It wasn't as sad as we thought it would be, but we did feel that she is hurting with this decision. Finally, we also watched Brooke and Ridge further divide their own marriage by discussing the problems their daughters have.
What's Happening on The Bold and the Beautiful
Wyatt and Katie share a bittersweet moment while discussing their secret relationship. WATCH FULL EPISODE: https://t.co/3qXn6CXFin #BoldandBeautiful pic.twitter.com/kbTu2GMwFl

— Bold & The Beautiful (@BandB_CBS) June 12, 2018
Fans are excited to hear that there is a casting call for someone who will play a young woman by the name of Clara. We have no idea what she will do, how she will play into this, and what will happen when she arrives, but it's a fresh new start for someone. And there is a call out for a handful of extras that are needed for an upcoming fashion situation, and we think this might have a little something to do with the fact that Sally Spectra is coming back to town. Could she be in the mood for a fashion show?
What's Next on The Bold and the Beautiful
TODAY: Brooke meets Baby Kelly and has a heart-to-heart talk with Steffy. #BoldandBeautiful pic.twitter.com/EJafMOXknS

— Bold & The Beautiful (@BandB_CBS) June 13, 2018
This day is going to be very emotional for so many people. For one, we are going to see Hope come to visit the baby for the first time. It's not easy for her to see the baby that is now her niece thanks to her mother's marriage, but she has to take the time to meet this baby and hope that she can make some sort of happiness in her own life. She's working very hard to find a way to be happy for this baby and the fact that she is all right, but things will not always work that way for her. She will become very emotional when she sees this baby, and we almost think that she might regret her own actions when she sees what she was potentially going to ruin by marrying Liam. We aren't sure this will stick, but she might just feel bad for all of it. This might change, of course.
And then there is the fact that Liam is going to talk to Brooke. He knows that she's upset with him and with Ridge, and that's not all they are discussing. Liam wants to tell Brooke what happened when he spoke to his father, and he wants her to know what he did to him, to her daughter, and to Steffy. He wants her to understand so that they can make this work and move on, and we hope she takes the time to listen to him. She's not happy, but we think that he will share some of his personal feelings as well. Perhaps they will learn how to move on from things like this.
Stay tuned for more The Bold and the Beautiful and be sure to check out TVOvermind daily for the latest The Bold and the Beautiful spoilers, news, and updates.
Tell us what's wrong with this post? How could we improve it? :)
Let us improve this post!