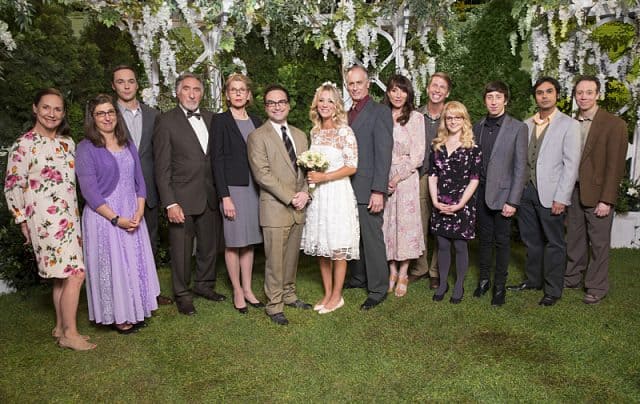 It's finally here, ladies and gents, the long-awaited premiere episode of The Big Bang Theory's 10th season. It's unreal for television shows to last this long in this day and age, so even getting here is an accomplishment. We've been blasted with guest star news for the entire summer break, so given that, this premiere episode is…about what you'd expect.
This week on The Big Bang Theory: After Alfred and Mary shared a cab and a nightcap, Sheldon and Leonard are restless thinking what might have happened between them. Beverly is also made uncomfortable by Alfred's presence. Penny's family, including her embarrassed mother and drug-dealer brother, also come to town for the ceremony. Meanwhile, Howard is sought out by a military general, who wishes to discuss Howard's navigation system. Keith Carradine, Katey Sagal, Christine Baranski, Judd Hirsch, Laurie Metcalf, Dean Norris and Jack McBrayer guest star.
There was a lot happening, but like I said before, it's pretty much what you'd expect. There are a lot of guest stars, and there's a big to-do with a relatively happy ending. That's not all to say that it wasn't entertaining, because it was still a funny episode that kept true to the standards Big Bang Theory has been playing to for the last 10 years.
One of the highlights of this episode for me was Penny's family. They have a lot of baggage and things going on with them, but the best part about each of them was that they understood how much Penny and Leonard mean to each other. I expected quite a bit more ridicule of Leonard and the rest of Penny's friends, but it was actually really encouraging how everything went for Penny's family.
Aside from that, the standout of this episode was Bernadette. She was given very little to work with, and yet she stole the show. Hopefully, she's given a prominent role in all of Howard's military turmoil.
The guest cast, I have to say, was all very well chosen. Even though some of them looked like they were there to just fill space, Katey Sagal and Jack McBrayer in particular (the newbies) were great choices. I wouldn't have thought of Jack McBrayer as a drug dealer (OK, I still don't), but he played the part with conviction.
As always, here are some of my favorite quotes/moments from the episode:
"It was nice of her to show us playing dumb with an example"- Sheldon
"Yes, he is from India. No, I don't know his immigration status." – Classic Wolowitz Prank
"So did you defile my mother or not?"- Sheldon
"I don't want them thinking we're white trash" "What kind of trash do you think they'll believe?"
"He's basically Leonard with a larger prostate"- Sheldon
"She just SELLS drugs. I had to make 'em!"- Randall
"Love is patient, but it's not gonna put up with all the side chatter, so KNOCK IT OFF!"- Bernadette
I love that they brought in Stuart to make things more awkward. Genius.
This was exactly the show we all know and love. It wasn't perfect, but it was funny and heartwarming. Hopefully, the issues will hit closer to home and things will get more tense as the season goes on. As always, it was a pleasure to bring you reviews of this show, and I will continue to do so!
What did you guys think? Did you enjoy the episode? Let us know in the comments!
The Big Bang Theory airs Mondays at 8/7c on CBS
The Big Bang Theory Season 10 Episode 1 Review: "The Conjugal Conjecture"
Summary
Leonard and Penny's second wedding approaches, as their crazy families arrive and get crazier, on the season premiere of The Big Bang Theory.