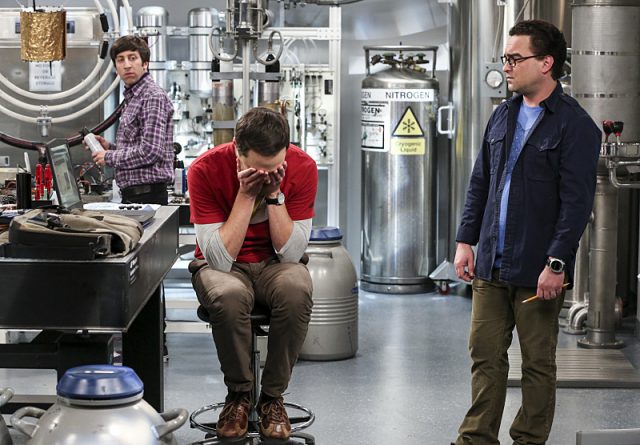 The Big Bang Theory stays relevant because it relates to a lot of different kinds of people. There are those of us like Leonard, Sheldon, Howard, and Raj, who have felt out of place our whole lives, except with others like us. There are those of us like Penny, too, who simply doesn't always understand the world she entered. What's exceptional about The Big Bang Theory is not the concept, but the fact that these characters (who are often criticized as caricatures) are in fact, realistic. They have human problems like all of us do. The laughs come from the dissonance in cultures, but the viewers keep coming back because they relate to the way that Leonard, or Sheldon, or Bernadette feels.
This week on The Big Bang Theory: Leonard, Sheldon, and Howard struggle to meet their deadline. Sheldon is frustrated by his lack of sleep, so he drinks his first energy drink. Penny accompanies Amy to a scientist party, but hardly anyone shows up. Bernadette and Raj hang out to prepare for the baby's arrival, but Bernadette struggles with the emotional motivation.
This episode was funny, but as I said earlier, it was really the emotional beats that made it special. Bernadette, first of all, was worried because she wasn't excited about all the baby stuff. As a new parent myself, I can vouch for some insecurity she must've been feeling. Wanting to live up and be a good parent is a tremendous pressure. I was pleased with how realistic this whole story felt. You know, except how uncomfortably close Howard and Raj are.
Then there was the matter of Sheldon falling short of his own expectations. I know I'm not the only person that has high expectations for themselves. It was actually a little underplayed in the episode, but I was really moved by Sheldon admitting that he was not capable of meeting the deadline that he had eagerly set for their team. Sheldon started out the series so arrogant and cocky about his own scientific ability, that it shows tremendous growth and courage to admit his shortcomings.
Even though there were a lot of wonderful serious moments, there was also wonderful humor sprinkled throughout. As always, here are some of my favorite quotes/moments from the episode:
"I'll have some wine and listen to people go on about crap I don't understand. How is it different than any other day of my life?" Valid point, Penny
The Flash tempting Sheldon with "drugs" is in the running for my favorite TV moments this week.
"I do like things better when famous people like them." Don't we all, Sheldon?
"I bought stock in Marvel" – The Flash
"I was going to start at the end. Thank god you're here!"- Bernadette
"The first thing we need to get rid of is that tone." Raj, giving Bernadette an attitude adjustmenet
"Crack cocaine. Nicotine. Pringles." The Sheldon Cooper directory of addictive substances
"I think you were mean before you were pregnant."- Raj
Like I said, there were plenty of laughs to be had along side the emotional depth that this episode provided. I was worried that they would never be able to top Sheldon and Amy's break-up in terms of emotional stakes, but so far, so good.
What did you guys think? Did you enjoy the episode? Let us know in the comments!
The Big Bang Theory airs Mondays at 8/7c on CBS
The Big Bang Theory Season 10 Episode 3 Review: "The Dependence Transcendence"
Summary
Sheldon, Leonard, and Howard struggle to meet their deadline, while Bernadette deals with insecurity, on this week's solid episode of The Big Bang Theory