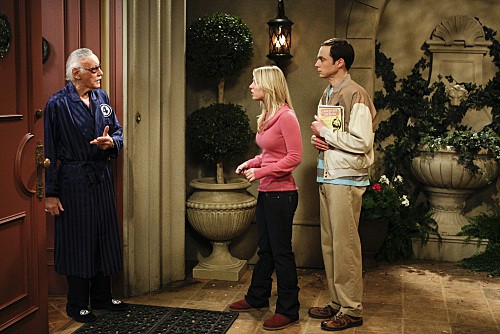 The Big Bang Theory is a sitcom that centers on a pair of physicists named Leonard and Sheldon who share an apartment in California. Their neighbors are about as quirky as they are, and the misadventures they go on are truly epic — the show has enjoyed a ten season run thus far because it's so entertaining and unique. A big part of what makes The Big Bang Theory such a pop culture hit is its many guest appearances and cameos.
Here are ten instances where The Big Bang Theory non stars totally stole the show.
1. Steven Yeun – Season 3, Episode 22, "The Staircase Implementation"
Most people now know Steven Yeun as the guy who played Glenn on The Walking Dead. Before he reached fame on that show, he appeard on The Big Bang Theory. In his appearance he plays Sebastian, a former roomate of Sheldon's before Leonard moved in. When he sees Leonard coming to check out the apartment as he's moving out, Sebastian tells him "run fast, run far". It's so hilarious, you'll want to watch the scene more than once.
2. Jessica Walter – Season 4, Episode 15, "The Benefactor Factor"
This season four episode saw Jessica Walter play Mrs. Latham, a wealthy donor who seems to take a liking to Leonard. During a car ride after he accepts her dinner invite, Leonard gets the feeling he'll have to go a bit further than he'd like to secure funding for his research. While what happens is outrageously funny, it's made all the more better by Penny's line at the conclusion of Leonard's walk of shame.
3. George Takei – Season 4, Episode 4, "The Hot Troll Deviation"
Anytime George Takei makes a guest appearance it's going to be awesome, and this was no exception. He appeared on a season four episode in which he's apart of Howard's fantasy sequence. His quips make the scene wonderful in only the way that George Takei can, and the best part is when his advice to Howard ends up being totally right — if only Howard would've listened to the voice in his head.
4. Stan Lee – Season 3, Episode 16, "The Excelsior Acquisition"
https://www.youtube.com/watch?v=2genNZx6waA
Legendary comic book creator and artist Stan Lee was a guest star during season three of The Big Bang Theory in an episode where Penny causes Sheldon to miss a signing at a comic book store. To make up for it she takes Sheldon to Stan Lee's house, but he's not at all amused. Upon dismissing the sarcasm in a statement that Stan Lee made, Sheldon invites himself inside and ends up with a restraining order. Upon receiving it Sheldon hangs up the restraining order next to the one Leonard Nimoy filed on him.
5. Neil deGrasse Tyson – Season 4, Episode 7, "The Apology Insufficiency"
You simply can't have a series that revolves around astrophysics and not also have a cameo from Neil deGrasse Tyson. In an episode called "The Apology Insufficiency", Sheldon comes upon Raj talking to Dr. Tyson in the hallways of Cal Tech and he takes the chance to chastise him for demoting pluto from a planet to a dwarf planet. Though Dr. Tyson tries to explain it wasn't his decision, Sheldon says the most ridiculously hilarious thing that could've been said at that moment to make it clear he still holds the famed physicist reponsible: "If ifs and buts were candy and nuts we'd all have a merry Christmas". Even after Neil deGrasse Tyson needlessly apologizes, Sheldon can only reply, "Oh, shut up".
6. Eliza Dushku – Season 4, Episode 7, "The Apology Insufficiency"
Eliza Dushku from Dollhouse and Buffy the Vampire Slayer fame is one of the most well known The Big Bang Theory non stars to have a part on the show. She played an FBI agent on a mission to do a background check on Howard, who was trying to get a job working on the Department of Defense's surveillance satellite. Sheldon ruins any chance Howard would've had at the gig, but the guys hitting on Eliza and the many ways she rebuffs them is comedy gold.
7. Octavia Spencer – Season 2, Episode 5, "The Euclid Alternative"
The incredible Octavia Spencr was on season two of the show and her cameo was truly unforgettable. She played a worker at the DMV where Sheldon was applying for a learner's permit. Her brash character's interaction with Shledon's annoying and wacky weirdness makes this scene hysterical. Her answers to his questions and her threat to him at the end of the scene are great, but the real gem is what Sheldon says as he's walking away, learners permit in hand.
8. Summer Glau – Season 2, Episode 17, "The Terminator Decoupling"
Many of The Big Bang Theory non stars appear in the role of themselves, and that was the case when Summer Glau showed up in season two. As the guys were on a train she came into the same car they were riding in, much to their amazement. When Howard wonders out loud why Summer Glau would be on the train, Leonard replies, "Maybe John Connor is on board and she's protecting him from an evil Terminator". What ensues is a round of ridiculous theories about why the star is there, all capped off with Raj and Howard clumsily trying to hit on her during the hours-long train ride.
9. Levar Burton – Season 8, Episode 10, "The Champagne Reflection"
https://www.youtube.com/watch?v=M1w5wuvXdB4
Iconic Star Trek actor Levar Burton was on The Big Bang Theory three different times: once in season four on an episode entitled "The Toast Derivation", in a season six episode called "The Habitation Configuration", and in season eight. The last appearance was hands down the funniest, and it revolved around him making a repeat appearance on Sheldon's show "Fun with Flags". Levar Burton's reaction to seeing Sheldon's George Washington Carver impression is enough reason to watch this scene.
10. Leonard Nimoy – Season 5, Episode 20, "The Transporter Malfunction"
https://www.youtube.com/watch?v=OvNXolkz8-c
The late Leonary Nimoy is mentioned throughout The Big Bang Theory's seasons, as Sheldon has something of an obsession with him — he also earned a restraining order from the star, although the show has yet to mention why. Nimoy's guest appearance was actually a voice over, and it was one of the actor's last credits before he died in 2015. On the episode, Nimoy provides the voice for an action figure of his likeness that serves as Sheldon's conscience.