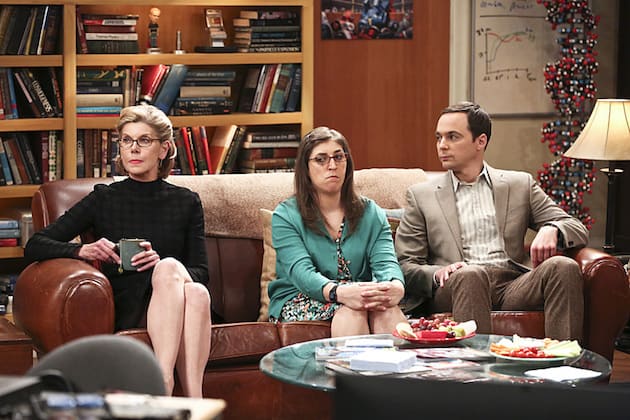 During Season 9 of The Big Bang Theory, we started off with Leonard and Penny's Las Vegas wedding. By the season's end, we saw that Leonard and Penny were still living in love and their own version of happily ever after (even with Sheldon in the mix). In the season 9 finale, The Convergence-Convergence, we saw that the couple had decided to renew their vows after only a year of marriage. This episode was important for that reason but for a couple other reasons as well. This episode propelled the show towards the direction it was headed, and it allowed us all to be privy to where they were all going. We've listed here why the season 9 finale was such an important episode in the overall story of The Big Bang Theory.
Leonard and Penny
When Penny said that she didn't think Leonard would be her second marriage, we immediately got it. We thought the same thing. The fact that these two even got together after so many years is still a shock to us. The season 9 finale showed that Leonard and Penny are not only together, but they're actually in love and happy. This episode solidified the fact that the couple will be together for a while after that season ended, which we now know is true even in season 11.
Howard's guidance system
In the season 9 finale, we saw that Howard had finished the guidance system he'd been working on. As soon as he was done, he received an email from the U.S. Air Force regarding the guidance system he invented. Howard goes on a frantic state, as he realized that the government was probably watching him. This was a great episode to segue into the following season's focus on Howard's involvement with the military along with Leonard and Sheldon, especially in the beginning of season 10.
Alfred
We meet Leonard's father for the first time in this episode. We find out that Alfred Hofstadter is an experimental physicist and the father of a genius, the one and only Leonard.
Mary and Alfred
The ending of the season 9 finale was such a tease when it came to Sheldon's mom and Alfred's dad that we couldn't' wait to see what was going to the happen the next season. In that finale episode, we saw Mary and Alfred flirt with each other throughout the family get together just before Leonard and Penny were to tie the knot again. It turns out that nothing happened that night but a conversation between the two; still, that fateful night would be the beginning of a relationship between Sheldon's mom and Leonard's dad.
Maternal hate
This episode also showed that Mary and Beverly's peace promise made in the finale of season 8 didn't last very long. They still hated each other after all that time. There's also a lot of other infuriating that went on in this episode, as Leonard made his mother mad for the first time after he invited his father to the wedding.
Tell us what's wrong with this post? How could we improve it? :)
Let us improve this post!