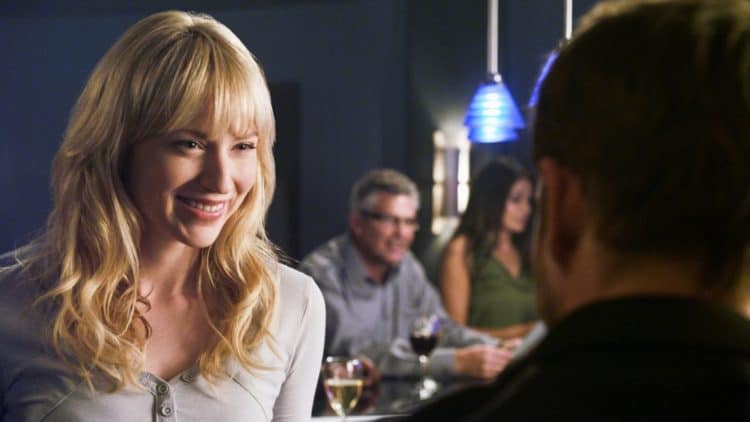 Beth Riesgraf might not be someone you know all that well unless you watch a lot of TV and are a huge movie buff. In the past nineteen years of her career she's done plenty to be recognized, including a couple of roles that people will no doubt recognize her for once they start on this list. But being able to recognize her you might soon realize just she's not all that visible when it comes to being a star. There's nothing to say that she's any less of a star, but the fact remains that some folks are a lot easier to notice since they try to stand out, while others are there to do what they love to do and make sure that they stay busy.
Sometimes this seems to mean that they'll be working but won't be getting the recognition they want or deserve. Beth has played some memorable roles in TV and in film but to date she's not the biggest name out there. In Hollywood the trick seems to be to just do the work and do your absolute best. Standing out is for those that are into high stakes gambling and are willing to throw everything into the metaphorical pot to see what kind of luck they'll be dealt. Beth strikes me as more of the type that will put her nose to the grindstone and continue to plug away at a career that might not be the most extravagant, but is overall just as fulfilling. You don't have to be a megastar to enjoy your job after all. With that said, here are 10 things you didn't know about Beth Riesgraf:
10. She was the senior prom queen in high school.
She's certainly got the looks to be a prom queen. Before anyone gets on me for issuing a sexist comment, it's obvious that she's also a rather popular person and knows how to respond to and treat people in a way that inspires some measure of confidence. While being prom queen is at times little more than a popularity contest it is also, at times, a vote of confidence that a woman is worthy of being noticed for more than just her looks.
9. She's an adrenaline junkie.
Thankfully this kind of junkie is rarely a negative occurrence. She enjoyes being active, getting out, doing things, and simply enjoying the rush that life can give a person at times. Beth loves to live, not just sit on the sidelines, and she's been quite forthcoming in how she likes to spend her free time.
8. She has a short part in Alvin and the Chipmunks
It was only a little over thirty seconds but she plays the mother in the supermarket when Dave thinks that the boys are being a little rambunctious. It turns out that it was a little girl across the aisle that was throwing things. When her mother, Beth, finds out she apologizes and asks Dave if he has kids, to which he replies he has three boys. When he states that sometimes you just want to put your kids in a box as punishment she understandably gives him an odd look and walks away. Maybe he should have pointed the boys out to her.
7. She was engaged to Jason Lee at one point.
The two of them dated from 2001 to 2007 and even got engaged but broke it off eventually. There's not a lot of detail left to it, as people tend to stay together and then split up occasionally. For all intents and purposes though they remain civil to one another.
6. She's appeared in a music video.
She was in a music video called Cath, which is performed by Death Cab for Cutie. The video depicts a man entering a church during which the woman he loves is getting married to another man. He fantasizes about breaking it up and professing his love but in the end he walks away.
5. She was a main character on the show Leverage.
She plays the part of Parker, the thief, and is one of the more interesting characters on the show. Unfortunately despite its popularity, and it was an interesting and engaging show, it was cancelled in 2012 due to the fact that its ratings were experiencing a serious drop.
4. She's been in an episode of NCIS.
Beth took part in an episode that saw her as a computer and games expert that found a hidden secret inside one of the games she was playing.
3. Her filmography isn't quite that extensive.
In almost two decades she hasn't done as much as others but she's still built an impressive resume of shows and films that are a credit to her talents.
2. She has a couple of films still in production.
The film I Hate Kids is in post-production at this point and In Limbo is still in production, so it's not really known when they'll be out.
1. She doesn't like to sit back and wait for anything.
A good example is that when the show Leverage was over and done with she got right back out there and started looking for work. Beth is not an idle woman.
She's one of the workers in Hollywood, and thankfully she likes what she does.
Tell us what's wrong with this post? How could we improve it? :)
Let us improve this post!