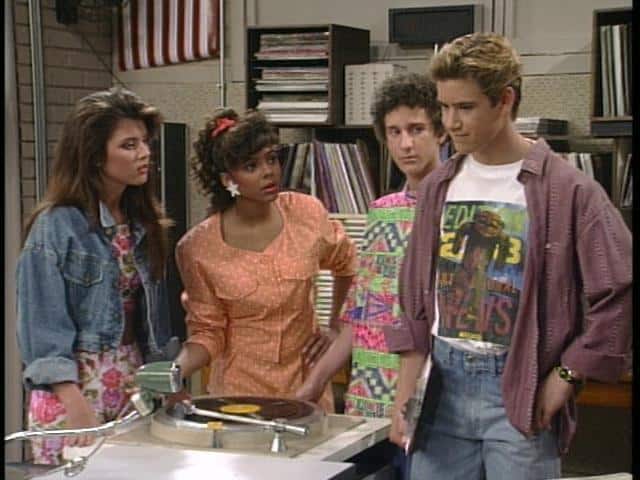 The internet is still abuzz after The Tonight Show with Jimmy Fallon debuted a skit featuring our favorite 90's teenagers from the classic series Saved by the Bell. This is not the first time a character from the series made an appearance on a late night show hosted by Fallon. In 2009, the SNL vet tired to get a Saved by the Bell reunion started on his show, and Mark-Paul Gosselaar made an appearance as the lovable schemer Zack Morris. This time around Gosselaar was joined by Tiffani Thiessen, Mario Lopez, Elizabeth Berkley, and Dennis Haskins. Last week, we showcased our favorite episodes from the very first season of Saved by the Bell that debuted in the fall of 1989. This week we viewed the 18 classic episodes that make up season two of Saved by the Bell and picked our three favorites. One is a classic that deals with the dangers of drugs, one a broken statue of a music legend, and one about a baby at Bayside.
1. "Jessie's Song," original air date November 3, 1990
When most people think of Saved by the Bell, this classic episode is the one that comes to mind. The reason it tops our list is because of the awesome music video that features the hot young group Hot Sundae. Jessie Spano is used to excelling in every subject at school. That is until she takes Geometry class. She needs to get a passing grade because she wants to get into Stanford and they will apparently only accept students who receive an A in Math. At this same time, Zack thinks it will be an awesome idea to make some money off of the singing talents of Kelly, Lisa, and Jessie. The trio ends up performing a music video in what appears to be an abandoned warehouse while wearing workout clothes and jumping on trampolines. Somehow Zack manages to connect with a music producer that wants to see Hot Sundae perform live at The Max, which seems like a very unlikely place to perform for a record deal.
Jessie decides she needs to take caffeine pills that could be habit forming in order to stay awake, practice her singing career, and study for Geomtry. Slater ends up finding the pills, but does not seem too worried about it as he only tells Zack about the issue. Zack does not believe him and Jessie's behavior becomes erratic. She finished her Geometry test in record time and then crashes in her room. Zack finds her and the next two minutes are the best in the history of the show with Jessie sob singing, "I'm So Excited." In the end we all learn a valuable lesson, if you take caffeine pills for a few days you may become, "so scared."
Best Quotes:
Slater: Jessie, those pills are dangerous.
Jessie: Well, yeah. So is Geometry.
2. "The Babysitter," original air date December 1, 1990
This is clearly an episode of Saved by the Bell that was filmed during season 1 and did not air until the following year because the cast looks so young. Mark-Paul Gosselaar and Dustin Diamond grew up quite a bit from season 1 to season 2 so it is pretty easy to differentiate between these two seasons. It is picture day at Bayside High and Kelly has to bring her baby brother to class with her because her parents have not arrived home from their trip. I do not know about you, but this never would have been allowed at my high school. The gang has to take turns watching Billy and then the unthinkable happens! Kelly breaks her arm and is rushed to the hospital. Thankfully, the break healed fairly quickly as she is never shown wearing a cast ever again. While Kelly is at the hospital it is up to Zack and the rest of the crew to look after baby Billy.
Lisa and Jessie have Home Economics and set the baby in one of the bassinets in the classroom while they get their yearbook pic taken. Screech comes in to find Billy and Lisa and Jessie perform a cheer to help him find the right baby, though he still ends up selecting a doll and does not even realize it. The baby ends up in Mr. Belding's office and all is right in the world once more. Billy even utters his very first word: Zack.
Best Quote:
Mr. Belding: (over the loud speaker) Attention, please. This is Mr. Belding
Billy starts crying.
Jessie: We feel the same way, kid.
3. "House Party," original air date October 6, 1990
The teens of Saved by the Bell were no means perfect as they would break the rules like most teenagers do when growing up. The gang learns that Screech's parents are taking a trip to Graceland and leaving him in charge. The guys come over and have a dance party in their underwear, which is never anything I did with my friends when they had parties. The girls, with Violet (Tori Spelling), sneak into the house and end up breaking Screech's mother's Elvis statue. It is going to cost $250 to replace it, and since none of the teens has a job they do not have the cash to replace it.
Zack has the bright idea of challenging Maxwell Nerdstrom to a game of poker. Unfortunately, Maxwell is an excellent poker player and swindles the gang out of all the money they did have, plus Screech's dog. In order to pay for the statue the gang holds a party and charges $10 per person to buy it. In order to get the dog back, Jessie agrees to go on a date with Maxwell, who won't give up the pooch until he gets a kiss from Jessie. She tells him to close his eyes, and they rub the dog's nose in his face. Screech's mom returns home and is displeased that there is a party going on. Luckily, Zack planned for this and has a 'Welcome Home' banner displayed in the living room. Screech's mom is impressed and tells everyone to party down.
Best Quote:
Maxwell: Here's a buck babe, just for being beautiful.
Jessie: Here's a dirty look just for being alive.
What is your favorite episode from the second season of Saved by the Bell? Let us know in the comments section below.
[Photo via NBC]