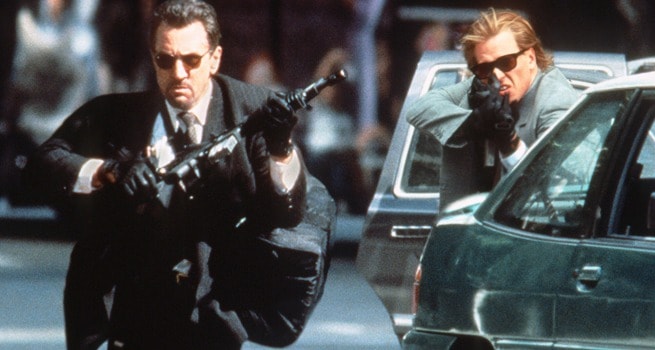 Since their inception, banks have been a popular target for people who are looking to pull of money-making heists. After all, if you're looking to steal large amounts of cash, a bank is the best place to be. As a result of the suspense and thrill associated with pulling off heists, bank robberies have proven to be a great subject matter for the entertainment industry. Over the years, there have been dozens of movies about bank robberies, and many of them have become massive hits. From happy endings to tragic losses, these movies come in a wide variety and are always full of surprises. Continue reading to see our list of the 10 best movies about bank robberies.
10. Den of Thieves
Any time you're trying to pull off a bank robbery, it's important to have a solid group of people who are willing to risk it all for the sake of the heist. In the 2018 movie Den of Thieves, a group of guys devises a plan to rob a bank in Los Angeles. The group is made up of people who have lots of experience breaking the law, but they eventually find themselves in the crosshairs of some of the city's most talented police officers.
9. Heat
Released in 1995, Heat may be more than 25 years old, but it's aged surprisingly well. The film stars Robert De Niro as a criminal mastermind named Neil who is the leader of a group of fellow criminals. Before leaving that life behind, he wants to plan one final bank robbery in which he and his crew plan to steal more than $12 million. However, in addition to the issues he has with his crew, De Niro also finds himself dealing with issues at home. On top of that, he is being targeted by a persistent police officer placed by Al Pacino.
8. Dog Day Afternoon
Dog Day Afternoon may be the oldest movie on this list, but it's still one of the best. The film centers around three low-level criminals in New York City who decide to rob a bank. However, things quickly start to go wrong during the heist and they find themselves in a stand-off with the police. A plot twist is eventually revealed that the robbery was planned in order to get enough money to pay for one of the robber's sex-change surgery.
7. Honest Thief
The phrase honest thief may seem like an oxymoron, but within the context of this movie, it makes perfect sense. Honest Thief stars Liam Nissan as a talented bank robber named Tom Dolan who is known for his ability to slip in and out of banks with ease. He eventually decides to do the 'right' thing and turn himself in to the FBI only to be double-crossed.
6. Takers
Takers may not have the best reviews, but it's one of those movies that many viewers love because it will have you on the edge of your seat. The movie is about a group of bank robbers who are known for their elaborate heists. After being convinced to do one final mission, the group has their plans derailed by two FBI agents.
5. Inside Man
You don't have to know much about bank robberies to know that taking a hostage probably isn't a good idea. However, that's exactly how things went down in the Inside Man. When a group of robbers led by Dalton Russell (Clive Owen) take over a New York City bank and hold a group of people hostage, an intense negotiation begins between Russel and a veteran detective portrayed by Denzel Washington.
4. The Bank Job
Any time you see Jason Statham starring in a movie, you already know something crazy is going to go down. In the film, Statham plays a reformed criminal named Terry Leather. After years of breaking the law, Terry had settled into a 'normal' routine with a regular job and a family. However, when the opportunity to pull off a huge bank robbery presents itself, he can't resist.
3. Set It Off
Most of the time, bank robbery movies star almost entirely male casts. That, however, wasn't the case for Set It Off. The 1996 film is about a group of female friends who decide to start robbing banks so they can stop working their low-paying jobs. Unfortunately, however, their crimes eventually catch up with them.
2. The Town
The Town is easily one of the most memorable bank robbery movies, and that's largely due to its stellar cast which includes Ben Affleck and Blake Lively. On top of that, the imagery of people robbing banks while dressed as nuns is pretty tough to forget. The movie was inspired by the 2004 novel Prince of Thieves and follows four childhood friends who rob a bank. During the robbery, they hold the branch manager, Claire (Rebecca Hall) hostage, and one of the robbers ends up falling in love with her.
1. Going in Style
The 2017 movie Going in Style earned the number one spot on our list because of its originality. Unlike all of the other movies, we've talked about, Going in Style features a group of senior citizens who comes up with a plan to rob a bank after they learn their pensions have been canceled. Going in Style has a comedic tone that is a huge departure from the serious tone these kinds of movies usually have.
Tell us what's wrong with this post? How could we improve it? :)
Let us improve this post!