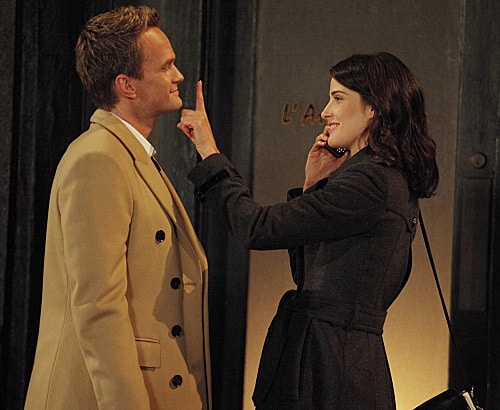 It is still hard having a television season without How I Met Your Mother on the Monday night schedule. The show was a staple on CBS for nine seasons and ended its run in March 2014. The reviews were mixed on the final season that took place over one weekend of Barney (Neil Patrick Harris) and Robin's (Cobie Smulders) big day. Many people grew tired watching the wedding mishaps from waiting for the guests to arrive to trying to decide where to have the rehearsal dinner. Others loved the idea of having one season only last three days long with intermittent scenes featuring Ted's (Josh Radnor) relationship with "The Mother" AKA Tracy (Cristin Milioti).
For those fan who wished the show had ended at the end of season eight, this article is for you. Even if you loved season nine, still continue reading. We at TV Overmind have selected the top moments of the penultimate season. They feature a music documentary, time traveling, a train station, and of course an appearance from True Blood's Joe Manganiello.
Best Moment #4 – Future Ted Meets "The Mother" in Episode 8.20 "The Time Travelers"
This entire How I Met Your Mother season 8 episode is far fetched, but still contains one of the greatest moments of the season. Barney invited Ted to go see Robots Versus Wrestlers: Legends. He is unable to go because he has to prepare for the class he is teaching. Barney warns Ted that he will regret his decision. Ted then sees a future version of himself and Barney enter the bar. Over the course of the episode the two see many future versions of themselves.
The best moment happens towards the end of the episode. Future Ted ends up going to "The Mother's" apartment, the one she was living at with Cindy (Rachel Bilson). He knocks on her door and introduces himself. Ted continues by saying how much he loves her and how they will end up meeting in 45 days and eventually end up getting married and having two beautiful children. It is the first time viewers start getting some information about roughly how long it will take before Ted meets the future Mrs. Mosby.
*Bonus – Glee's Jayma Mays returns as the Coat Check Girl that appeared in the season 1 episode, "Okay Awesome"
Best Moment #3 – Joe Manganiello in Episode 8.8 "Twelve Horny Women"
Joe Manganiello appeared in earlier seasons of How I Met Your Mother. This was before the actor began appearing on the vampire drama True Blood in 2010. After he became an even bigger star by being featured in Magic Mike, Manganiello reprised his role of Brad Morris for two episodes of How I Met Your Mother season 8. The court room antics between Brad and Marshall (Jason Segel) are one of the greatest moments of the entire season. During the hearing about a lake that was contaminated, Brad uses his charm and good looks to win over the all female jury. There is even footage of Brad swimming in the lake and flexing for the camera. However, Marshall ends up getting the last laugh when he orders Brad to remove his shirt in the courtroom and expose the skin rash he developed by swimming in the polluted lake.
*Bonus – Saved by the Bell's Dennis Haskins plays a judge in this episode.
Best Moment #2 – The Return of Robin Sparkles in Episode 8.15 "P.S. I Love You"
Robin Sparkles first appeared in the season two episode, "Slap Bet." This is where we first heard the awesome tune, "Let's Go to the Mall." The following season, Sparkles would return with her next hit "Sandcastles in the Sand." In season 6, it was revealed that Robin appeared on a Canadian children's show called Space Teens with her close pal Jessica Glitter (Nicole Scherzinger). The final appearance of Robin Sparkles would be in this How I Met Your Mother season 8 episode.
It is revealed that Robin was at one time obsessed with Paul Schafer. Barney was also able to find a video of the documentary made about Robin Sparkles and her music decline. The documentary describes how Robin Sparkles decided to change her image and become a grunge singer by the name of Robin Daggers. She would go on to make a music video called "PS I Love You," that her record label refused to release. Barney believes the song is about Alan Thicke, but Robin reveals that the PS stands for Paul Schafer.
*Bonus – James Van der Beek is back as Simon, Robin Sparkles's co-star in "Sandcastles in the Sand."
Best Moment #1 – The Reveal of the Mother in Episode 8.24 "Something New"
If you watched How I Met Your Mother season 8, you probably thought that Barney and Robin were going to tie the knot during the finale. And that is exactly what show creators Craig Thomas and Carter Bays wanted you to believe. It was not until the final moments of the episode that you realized that the nuptials we knew were going to happen at the conclusion of the comedy's seventh season would not be taking place until season 9. During the episode, we do find out that Ted plans on leaving New York and head to Chicago, Lily (Alyson Hannigan) intends on moving to Italy to focus on her art career, and Marshall was just rewarded the position of a judge. Even after finding out all of that information, that still was not the best part of this episode or How I Met Your Mother season 8 overall.
The closing moments of the episode were what fans had been waiting to see since 2005. The ending montage showed the five main characters all on their way to the wedding in Farhampton. However, they were not the only ones headed there. "The Mother" makes her first appearance on the series when she steps up to the counter and buys a ticket to Farhampton. She has the yellow umbrella and base guitar with her so the audience was quickly able to figure out who she was.
*Bonus – Happy Endings' Casey Wilson and Madtv's Keegan-Michael Key play a hilarious couple that is bothering Barney and Robin while they are at a bar.
What was your favorite moment from How I Met Your Mother season 8? Tell us in the comments below.
Photo by: CBS
Tell us what's wrong with this post? How could we improve it? :)
Let us improve this post!