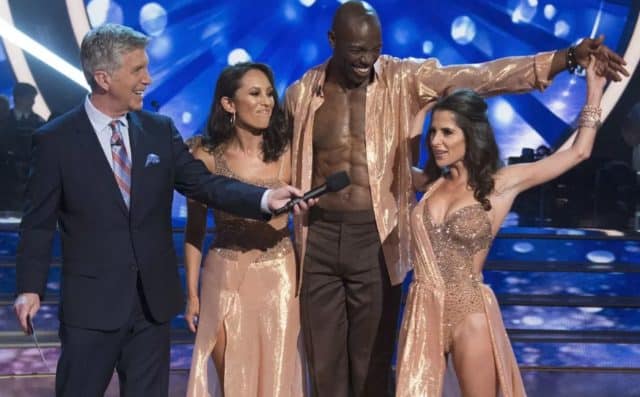 There are few reality shows nowadays that can attract an superior audience following from the get-go and manage to keep those ratings for many years to follow. It often shows a hierarchy in the entertainment industry, while also bringing major network ratings all around. One of these shows that has been on the air for a whopping 26 seasons now is that of 'Dancing with the Stars'. From its modest beginning back in the summer of 2005 to its wrap up of the current "athletes only' season that just aired, there is something that is so intriguing about seeing some of the most well known celebs making their way on the dance floor, and in a whole new light. In this article, we are going to count down the top five 'Dancing With The Stars' finales that have aired thus far, and who took the mirror ball home. Let's get started with our count down.
Shawn Johnson
As with many of the other winners that have been on the show (and that have made our list), they have a very athletic background. In fact, there have been a slew of Olympians to grace the DWTS stage, and take home the glory all the same, just like Olympic gymnast Shawn Johnson. Johnson was the winner of season 8, partnering with Mark Ballas. She would later continue on to take part in the all stars season of DWTS, which was the 15th season of the series. It was clear to see in both season that her gymnastics background obviously paid off when she took center stage.
Melissa Rycroft
Our next finale and winner on our list, Melissa Rycroft, was also originally on season 8 of DWTS alongside competitor Shawn Johnson. Although falling to third on her original season, Rycroft was able to take home her own mirror ball when she came back for the All Stars season with season 15. The actress was paired once again with her partner Tony Dovolani, and showed the audience and viewers at home that she had what it takes to bring home that win.
Jordan Fisher
As one of the more recent winners on our list, actor and singer Jordan Fisher was certainly able to let his musical theater background shine through his time on the DWTS stage. Not only was he able to take home the mirror ball trophy in the end, but he received the most excellent scored from the very beginning. Fisher competed in the 25th season of the series, alongside his partner, Lindsay Arnold. With his ability to learn ballroom routines with ease, and handle any tempo or step that was thrown his way, it was clear to see why he was destined to be the winner of that season of the show. If you haven't watched all of his dances from his season, it is worth a watch!
Apolo Anton Ohno
Another Olympian to make our list, Apolo Anton Ohno received a lot of hype during and after he was on 'Dancing With The Stars'. The speed skater was paired with the talented Julianne Hough, and together, they took home the mirror ball trophy during the 4th season of the series. Ohno also came back for the season 15 of All Stars with the show, where he partnered with Karina Smirnoff, but was unfortunately eliminated and only received 5th place. We are sure that it was his playful personality and quickness on his feet that helped him to achieve greatness with DWTS, just as it is with so many other competitors who make their appearance.
Season One – Kelly Monaco
Of course, we can't create a count down of the best DWTS finales throughout its history without naming the first season finale and winner, Kelly Monaco. The first season of the series, which aired in 2005, only consisted of six competitors, which differs from the most recent seasons that have double the competitors fighting for the glory. The actress and model was paired with Val Chmerkovskiy. Monaco also took part in the season 15 All Stars round of the show, and came in third behind Shawn Johnson and Melissa Rycroft.
Although there are clearly many other phenomenal and talented winners that made their way to the season finales of 'Dancing With The Stars' over the years, we believe we have found the top five that have shown their appeal with the ever enchanted audience. If you want to feast your eyes on the many seasons of 'Dancing With The Stars' throughout its 13 year run, you can find many of these competitors dances, as well as other honorable mentions and their dances, online.
Tell us what's wrong with this post? How could we improve it? :)
Let us improve this post!