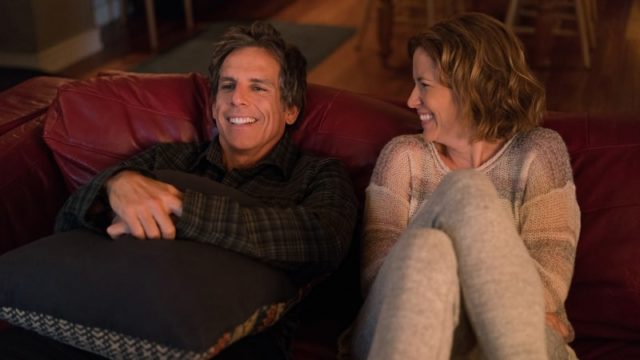 So hands up, how many of us are actually going through or have gone through what Brad is going through in Brad's Status? Okay, and how many are dreading the day because they're kids aren't yet grown? This movie looks like something that parents of all ages can relate to in some way since at one point we have or will all go through it, and the hilarity is that we all share something so special that we deal with in different ways. Those people that have their hedge funds, sell their dotcom stocks, or are high-powered and have no other responsibilities save for their job might have a good life filled with everything they wanted, but there's usually one thing that they don't seem to have.
They don't often know what it's like to bring a kid into the world and watch them become someone special. True, some of those high-powered individuals make the time and have a much fuller life for it, but for those that think children are just too much work they'll have no idea until the day comes when they realize their wealth and fortune is about all they really have. Having kids and watching them grow into someone that might one day change the world is a thrill ride of such epic proportions that there's no way to be ready for it when it comes.
This is the kind of movie in Ben Stiller excels. Zoolander and several others in which he had to be a goofball to make the role work were fine and all, but when he's being a real human being he's actually being funny, and that's amazing. He's getting older obviously and yet he's becoming more distinguished and much more humorous than he's ever been, which is saying a lot actually. The act of maturing has done wonders for Stiller and is a good look on him.
It's hard for any parent to realize that one day they'll have to let go of their child and just step back as they grow up and move on. The trick seems to be to actually DO the stepping back and let your kid experience life and just be who they were meant to be. That sounds so simple when you say the words but the truth of it is much, much harder.
Ben Stiller is the kind of actor you either love or hate, and for those of us that actually like him this film looks like it might hearken back to a role that is more geared towards just being a normal human and not going so over the top that he's no longer able to relate to the audience. As a father who is questioning what he's done in his life and is about to embark on a journey with his son to see which college he would like to attend he's doing everything he can and trying to accept that this is son's time, not his own. His issues have to be put aside so that he can focus on his son and what he needs. The really cool thing though is that while he's looking out for his son, his son is looking out for him.
Save