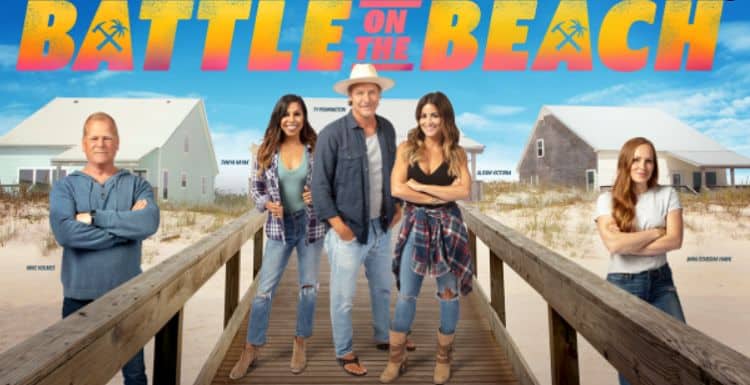 Year after year, HGTV continues to come up with creative ideas for home renovation shows. One of the network's latest ideas is a new show called Battle on the Beach. During the series, three teams will compete to see who can pull off the best renovations on a beachfront property. To keep the playing field even, each of the properties will essentially be the same. Contestants will also be mentored by some HGTV legends including Ty Pennington and Alison Victoria. As you can guess, things get pretty intense, which also results in some very cool and creative moments. Continue reading for 10 things you didn't know about Battle on the Beach.
1. There Are A Variety Of Houses On The Show
One of the cool things about beach houses is that they don't always look the same. Although there is definitely a certain style that comes to mind when people think of beachfront property, there is also a lot of variety and that's something viewers will get to see on the show.
2. The Teams Are Competing For A Prize
The prize is one of the most important parts of every competition. Most people go a little bit harder when they know they have a chance to win something good at the end. That said, Battle on the Beach definitely did a good job in the prize department. Each team is competing for a chance to win $50,000.
3. The Show Will Feature A Guest From Another Network
Viewers will definitely see some familiar faces from HGTV when they tune into Battle on the Beach, but they might also recognize someone from another channel. Taniya Nayak, who has done a lot of work with The Food Network, will also be a mentor on the show. It's important to note, however, that this isn't the first time she's worked with HGTV.
4. The Show Is Filmed In Alabama
When people think of beaches in the United States, Florida and California are probably the first places that come to mind. People will probably be surprised to know that Battle on the Beach wasn't filmed in either one of those places. The show was actually filmed in Gulf Shores, Alabama which is an area HGTV has used to film other shows.
5. The Jury Is Still Out On A Second Season
Battle on the Beach is still very early on in its first season, so the network likely hasn't gotten enough data yet to determine how successful the show is. As a result, it hasn't yet been renewed for another season. However, if the show lives up to its expectations it'll likely be brought back for years to come.
6. The Renovations Will Be Reviewed By Expert Judges
We've already gone over the fact that the house flipping teams will be mentored by some home design legends, but you're probably wondering who will be deciding which team did the best job. The answer is Mike Holmes and Mina Starsiak, both of whom have worked with HGTV in the past and are experts in their fields.
7. The Cast Had Lots Of Fun While Filming
Filming a show is hard work, but the cast was also able to have some fun in the process. During an interview with O Canada, Mike Holmes said, "I'm telling you, when that freaking box came out that they started singing, I was blown away that Ty just pulled out his own character and got up and sang like he was a rock star, was not afraid of cameras because everyone had their phones rolling to record it. It was just a wonderful time."
8. The House Flippers Are Don't Have Much Experience
Many of the shows on HGTV feature renovations done by people who have decades of experience. But that isn't the case with Battle on the Beach. These house flippers are passionate about what they do, but they don't have a lot of experience. That is why help from the mentors will be essential.
9. The Mentors Can't Do Any Of The Work
Having mentors will definitely help, but viewers will see that it can only go so far. Although the mentors can provide guidance, they're not allowed to actually do any of the work. This can be frustrating for people who like to be very hands-on when working on a project.
10. The House Flipping Teams Have A Budget
You know how much money the contestants stand to win, but what about how much they can spend? Each team will have a $75,000 budget to use for their project. It'll be interesting to see how many different ways they're able to use that money to get the job done.