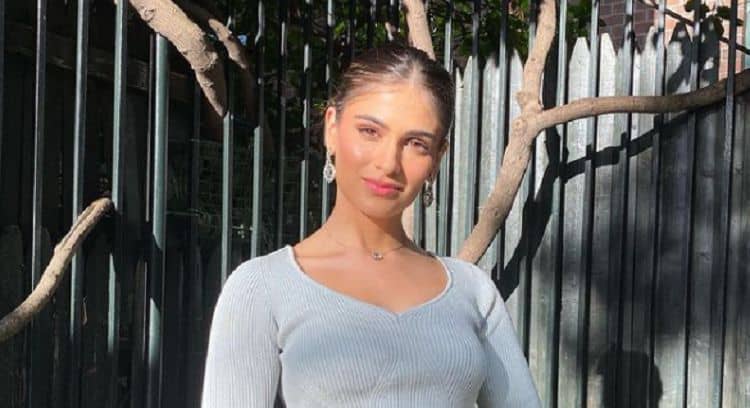 Batsheva Haart is well on her way to becoming a major reality TV star. As a cast member on the Netflix series, My Unorthodox Life, Batsheva and her family have let the world in on their very unique family. Initially part of the Orthodox Jewish family, Batsheva and her family decided to part ways with the conservative lifestyle. Now, they are living on their own terms and it's a pretty big adjustment. Before doing the show, Batsheva had already made a name for herself on the internet. At the moment, the show has not yet been renewed for a second season, but there are lots of people who are hoping the show gets renewed. Continue reading for 10 things you didn't know about Batsheva Haart.
1. Her Mom Is A Fashion Designer
Batsheva Haart is the daughter of business woman and fashion designer, Julia Haart. Julia is the CEO of the Elite World Group which is home to Elite Model Management. Batsheva has followed in her mother's very fashion forward footsteps and she has a great sense of style.
2. She's A Brand Ambassador
There was once a time when having a big following on social media was nothing more than a popularity contest, but those days are long gone. These days, having a big audience on line can lead to some big bucks in the real world. Thanks to her large and engaged following on social media. Batsheva has gotten the chance to become a brand ambassador.
3. She's A YouTuber
One of the keys to finding success on social media is casting a wide net and not sticking to just one platform. This is something that Batsheva seems to understand well. She started a YouTube channel where she posts a variety of videos. At the moment, the channel has just over 5,4000 subscribers.
4. She's A Reality TV Fan
Since Batsheva was born and raised in the Orthodox Jewish community, some people may be surprised to find out that she's a big fan of reality TV. However, she didn't start watching reality TV until she was 20 years old. The Bachelor was the first show she saw.
5. My Unorthodox Life Is Her First TV Experience
Due to the way Batsheva grew up, she probably never saw herself becoming a reality TV star. As we all know, though, life has a funny way of taking us places we never dreamed of. That being said, My Unorthodox life is the first time Batsheva has done a TV show.
6. She Got Married As A Teenager
Marriage is probably the last thing on most 19 year olds' minds, but due to her religious beliefs Batsheva wasn't like most 19 year olds. At that age, she married her husband, Ben. Although Ben has chosen to remain a little conservative, the couple was on the same page about no longer following many of the Orthodox guidelines.
7. She Has Some Skills In The Kitchen
If you thought Batsheva was only good at posting for pictures, you might want to think again. According to her LinkedIn profile, Batsheva studied at the Center for Kosher Culinary Arts from 2011 to 2012. From what we can tell, though, she never actually worked in the culinary world.
8. She Has More Than 30 Million Likes On TikTok
When people talk about Batsheva's popularity on social media, her number of followers is the first thing they tend to discuss. However, what's even more impressive is the number of likes she's gotten on TikTok. Batsheva's TikTok profile currently has 31 million likes and that number continues to rise on a regular basis.
9. She Doesn't Care About What The Haters Have To Say
Since My Unorthodox Life's release, lots of people have been critical of Batsheva and her family. No matter what they say, though, she isn't going to let their opinions get under her skin. Instead, she's choosing to focus on all of the love she's been getting from viewers. She told In the Know, "This was our experience.' And [the aim was also] to hopefully inspire people who are struggling and feel in a similar place in any religion, that there's a way out and you can still lead a very happy and successful life. Or, learn to be someone like me who is just less religious, but still has a lot of the same traditions and values [that they've always had]."
10. She Didn't Start Wearing Pants Until Her Late 20s
Batsheva's wardobe may consist of a wide variety of items now, but that wasn't always the case. Because of her strict religious beliefs, she wasn't allowed to wear pants. She didn't start wearing them until she was 27 years old and now they're a regular part of her outfit rotation.
Tell us what's wrong with this post? How could we improve it? :)
Let us improve this post!