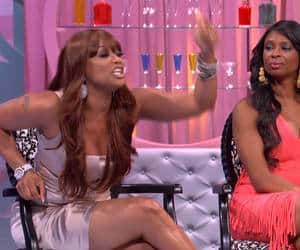 Going into the second part of the Basketball Wives reunion, I didn't quite know what to expect. Sure, there'd be some screaming, some cursing, and maybe some talk of hoodrat-ness, but after the typical topics were touched on, what would we learn about season four? Would there be anything to take away from this reunion (and season three as a whole) aside from a headache and a seething dislike of Suzie?
Things weren't explicitly spelled out for season four, likely to start later this year, but we did get a few possible leads to tide us over until the next go-around.
One (or two) ladies will sashay away:
The big news that leaked this week, briefly mentioned at the end of the reunion, was the Meeka (and possibly Royce) will be off the show come season four. It's not a surprise, per se, as Meeka didn't make the grandest entrance in reality TV history and you can tell that Royce is over everybody, but it has the potential to be a bad thing if the show lets it fester. As annoying as all the clique-y drama may have gotten this season, it was at least interesting to watch the form of the show constantly change, as people made up, people broke up, and people had trouble choosing which side to be on. You got to see where each woman's loyalties were and it made for good TV. I'm just afraid now that it'll be The Inner Circle Funtime Love-In Hour, the show will fall apart. I'm sorry, but who wants to watch a show with Evelyn actin' a fool, Jennifer and Suzie being her back-up singers, and Tami just floatin' around doing nothing. Like them or not, Royce and Meeka added tension to the show and without that contrast, the show may get a little too self-serving.

Lying liars who lie with a dash of vagueness:
Is it just me or was there a whole lot of lying and generalities tossed around tonight? More than usual, that is. For example, Twitter has been a gigantic issue between these 30-40-something women, as who they follow, what they (re)tweet, and what their direct messages say has been a topic of conversation since the opening moments of season three. All that is well and good, but very rarely does anybody actually give specific tweets/examples to illustrate all the "girl, stop tweeting about me" mumbo jumbo that we have to deal with as viewers. Tami, Meeka, Jennifer, and Royce came up with about two examples between the four of them of something tweeted by another woman, but even those were in more general terms (complexion, fashion sense) and had zero context to them. I would have appreciated one, two, or even all four of them breaking their phones out and actually telling us what the deal was, because it came off as a bunch of women just yelling to be yelling. Here's hoping season four has a little more honesty and forthrightness to it.
The show will be changing:
If you got up to go to the bathroom, you might have missed the two minor bonus scenes at the end of the show. One was a fairly cute scene of Evelyn and Shaniece back in New York, with Evelyn reveling in the atmosphere and Shaniece kind of over it. The other was a look at Tami's charity Project Girl, an organization designed to help theatrically interested 13-18 year old girls create their own stories and perform them for audiences. We've constantly been hearing Shaunie talk about how the show doesn't highlight certain positive aspects of the life of a basketball wife/girlfriend/ex-wife, so this seems like the watershed moment for a slightly tweaked fourth season to actually come to fruition. I'm pretty okay with seeing the balanced side of things, but it'll be intriguing to see how the show's ratings hold up. The past two weeks have seen the highest ratings for the show yet, but they come in the wake of Italy, Jennifer/Eric, and the desire to see these people in a room together for the first time (basically) all season. If you take away (some of) the fights from a reality show known for its sparring, will viewers stay around?
The third season of Basketball Wives has been a powder keg of tomfoolery, melodramatic hysterics, and a little bit of heart awash in the Miami sunshine. It may have had moments of frustration, especially once people started to reveal their true colors and let their ginormous hypocrisy seep out, but this season was still a fairly energetic, fun bit of reality TV that sets the stage for what will be a pivotal season later this year. Miami may be the city of drama, but it's the home to one of the more strangely intriguing reality shows on television.

Thoughts, Quotes, & Observations
"You were on the six like J.Lo!"
I wish that the reunion had been two straight hours as opposed to two hours over two weeks. It felt very choppy and at times, like we spent more time listening to John Salley, going to commercial, and watching footage from this season than we did talking.
John Salley did an alright job hosting the reunion, but his greatest moment was calling Suzie out for being an awful "mediator".
Chad Ochocinco is apparently the male Oprah, since random people just come to him for relationship advice and a shoulder to cry on.
The Evelyn/Ocho wedding is tentatively scheduled for next summer. I've got 20 on it not happening. Anybody in?
If both Meeka and Royce do in fact leave the show, who do you think should replace them? Chris Bosh's ex was in talks to join the show in season 2 and she recently won a court decision that would allow her to hop aboard season four if she so desired.
Royce telling Jennifer to get a mind of her own filled me with such joy I can't even describe. Apparently she's been reading the blogs, too?
Jennifer also needs to quit lyin' with her whole self-righteous quest to defend girl code. If she's so concerned about settling things woman to woman, she should have met Royce when they were supposed to meet and not spent their first meeting screaming in the woman's face like some ignorant teenage girl. Plus, you guys know as well as I do her whole "if anybody on this stage's husband, ex, whatever came up to me…" spiel was a crock. If Speedy Claxton came up to Jennifer tonight, you know she wouldn't say a darn thing to Meeka.
Bored at work? Here are some Basketball Wives games and a fabulous gif wall. My favorite is the sixth row down.
Tami needs to step her sports history game up. Speedy Claxton at least has a ring. Where's Kenny Anderson's?
I hope you guys enjoyed reading my rambles about the wives as much as I've enjoyed bringing them to you. After some thinking, I decided to bring you my first impressions of the women of Basketball WIves: LA next week, hit pause for 2-3 weeks to see how the show is, and then (possibly) pick it back up if interest or content is there.
What did you think of season three of Basketball Wives? Did the reunion give you enough laughs, drama, or information heading into next season? Will you continue watching the show if it gets more balanced in terms of content?