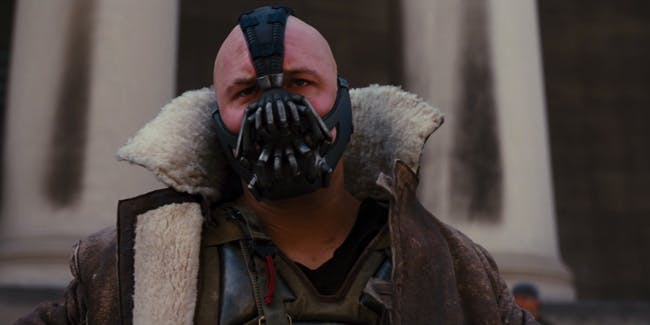 Among all of the many enemies that Batman has made over his long tenure in the comics few have ever done what only one of them accomplished, and that was to put Batman on the shelf for a prolonged period of time. In fact you can say that Bane came as close as anyone to killing the Batman as anyone did, but then that wasn't really his intention to start with. He wanted Batman broken, and that's how it happened. The sheer strength that Bane possesses is enough to kill just about any normal human, but the fact that in the comics he can supercharge himself is even worse. It makes him a supposedly unstoppable machine that no mortal hero can hope to take on without some kind of help. You've seen how he handled Batman more than once, and that's enough to believe that he's one of Batman's deadliest enemies. But it turns out that his quotes are every bit as impressive.
Here are some of the best quotes from Bane that come from The Dark Knight Rises.
10. Victory has defeated you.
Give some thought to that for a moment and think of how odd it sounds, and then you'll see how ironic it really is. Those who succeed and never fail seem to be blessed with a great deal of skill and luck. But those that continually win and triumph without ever knowing what it's like to lose tend to become soft as they don't know how to deal with loss when it comes. Batman has dealt with plenty of loss in his life, but having cleaned up Gotham during the movies he had nothing else to do but languish in his mansion.
9. Calm down doctor, now is not the time for fear. That comes later.
When a guy like Bane tells you not to be afraid it's usually time to be terrified since there's nothing good that comes from being in his company. So when he says that the time for fear is later you can imagine that what you're feeling in his presence at that moment is only the precursor to what's going to happen.
8. You don't fear death, you welcome it. Your punishment must be more severe.
It's hard to think of anyone not fearing death at least in part. But there are so many worse things than death, and guys like Bane seem to know a lot of them and how to use those methods to make a person beg for the final sendoff.
7. Theatricality and deception, powerful agents to the uninitiated, but we are initiated aren't we, Bruce?
Bane was not the kind of guy that was easily intimidated, if at all. As a member of the League of Shadows he was the kind of guy that did the intimidating.
6. We will destroy Gotham, then when it is done and Gotham is ashes, then you have my permission to die.
Destruction, chaos, and anarchy were kind of Bane's stock and trade, and he did them particularly well since he managed to almost eliminate Batman at one point. But he also had many loyal followers that were more than happy to help him burn everything down.
5. So you came back to die with your city?
Hubris was a problem when it came to Bane since he came by it quite honestly. Being big and strong and intelligent didn't give him the biggest ego, but it did make him think that he was unstoppable.
4. Oh, so you think darkness is your ally? But you merely adopted the dark. I was born in it, molded by it. I didn't see the light until I was already a man, by then to me it was only blinding. The shadows betray you because they belong to me.
Having been born and raised in a prison Bane was forced to be tough after a while. When he finally gained his reputation he was one of the toughest men that had ever done hard time and was also one of the most dangerous.
3. I broke you. How have you come back?
It's kind of amusing that Bane can't understand how Batman came back after the beating he'd taken. But one thing about Batman, he doesn't quit and he's not the type to admit that he can't do something until it's been proven.
2. Oh yes, I was wondering what would break first, your spirit or your body?
Obviously Batman's body will break long before his spirit does, but this was an injury that almost put Batman out of the game entirely. Having his spine cracked like that would have killed many men, but Batman was a little tougher.
1. Do you feel in charge?
There's a guilty kind of pleasure that comes from watching those who think they're all big and tough in a movie being backed down by someone that actually IS big and tough.
Bane is just bad in so many ways, and that's why he's awesome.