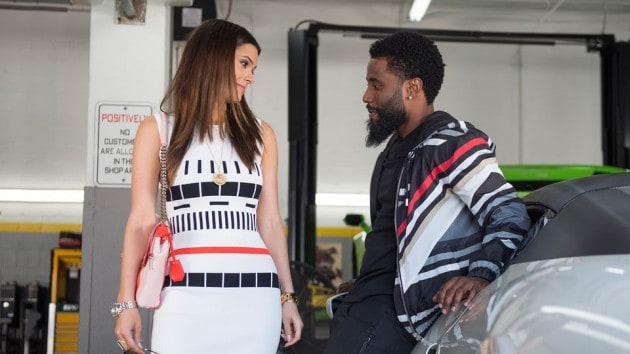 There comes a point in every HBO comedy's life when it has to forego a little bit of funny to drive home some plot. In a nutshell, that's what this episode of Ballers was about. There was a lot that needed to happen in the middle (this episode) so things can be funny and remain plot-driven in the second half of the season. Not that it was totally without laughs, but it felt a little serious.
This week on Ballers: Vernon needs Spencer's help to get out of a blackmail situation, which puts his whole team to work. Ricky, with gesture after gesture, is finally able to gain the upper hand on his young teammate. Charles gets into a little trouble with his wife.
Ballers had one of its funniest episodes yet last week. So, of course, I was planning on this week not living up. I was right, but in a good way. Ballers, as I've previously mentioned, is one of those shows that could easily change genre and survive. This was definitely a genre-bending episode. While it was still funny at times (Rob Corddry…need I say more?), it focused on the changing scenarios around the main characters, and hinted toward their future repercussions. Every show has episodes like this, but this one was, all in all, pretty enjoyable.
The characters advanced extremely far in this episode. Personally, I was cheering when Ricky gained the upper hand. I was sure that Ricky was getting an assist from that cop. When did I figure it out? When Ricky asked to get him off the hook. Ricky, should that situation have been for real, would've let him get arrested. John David Washington handles this character so well. He couples the wild unpredictability of a guy like Ricky (think Terrell Owens or Chad "Ochocinco" in real life) with a real, down-to-earth, sympathetic character. After the first episode, I was sure I'd like him the least. However, I've found myself totally in his corner, and that's a huge credit to both Washington and the writers.
Charles Greane is a guy I truly feel for. Sometimes, women don't understand the temptation of men. Omar Benson Miller is giving a masterful performance as this conflicted former player. His situation is probably the most cringe-inducing of any of the others, but it also gives a real look into not only retired football players and their struggle to move on (Brett Favre, anyone?) but of an honest to God man trying to be happy and still do the right thing. I find it absolutely fascinating.
Dwayne Johnson and Rob Corddry still make this show one to watch. This series with two other actors in those roles would be so much farther down my DVR queue. Johnson is poised, and he changes hats extremely quickly. He's like an older brother to these players, and he's a savvy financial manager on top of it. Corddry is nothing but comic relief (from what I've seen so far), but I'm not even remotely mad about it. They're both wonderful.
As always, here are some of my favorite quotes/moments from the episode:
-"See that girl, Reggie? Get her number for me."- Spencer, when Reggie asked for a part in the game plan
– "None of what you just said was on the CPA exam."- Joe, after Spencer detailed the day's activities
– I was really worried that Charles had gone to that lady's house when he drove by his. I was relieved to find out he didn't.
– Yeah, I cheered when Ricky got the upper hand. Thanks, Uncle Frank.
This wasn't my favorite episode of Ballers, but I appreciate these episodes. They're necessary to ensure the quality of programming going forward, and I have no problems with quality assurance. This dramedy is still very much on my radar, and it should be on yours, too.
What did you guys think? Did you enjoy the episode? Let us know!
Ballers airs Sundays at 10/9c on HBO.
[Photo via HBO]
Tell us what's wrong with this post? How could we improve it? :)
Let us improve this post!