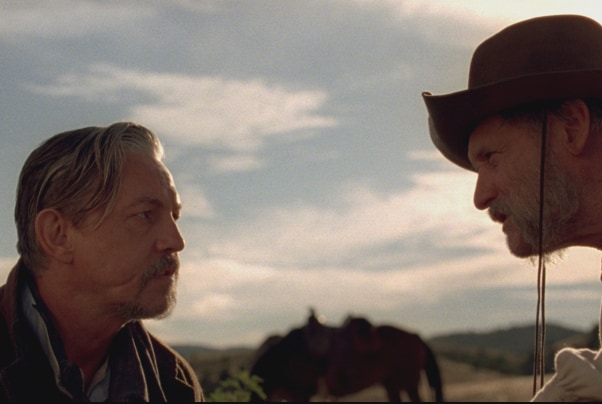 We're kind of in an era when the western is just about a thing of the past, even if people are trying their best to revive it. There was something about the western genre back in the day that just made it special, something that some people thought would translate well to the current era, but so far most movies that have been made about this time period have just fallen woefully short for some strange reason. Maybe The Ballad of Lefty Brown will help us to regain at least a little bit of faith in the western genre, though it's kind of early to tell quite honestly.
So far it looks like it might have a decent cast, with Bill Pullman, Tommy Flanagan, Jim Caveziel, and a few others worthy of note. But there's still that moment of trepidation between watching it and wondering if it's going to be worth our time. Westerns back in the day were something that were a lot of fun, didn't have humongous budgets a lot of the time, and were almost always just the good guy versus the bad guy kind of scenarios. Granted it wasn't always that simple, but there were usually pretty clear lines as to who was really bad and who was just trying to survive and had to do what it took.
Westerns, those that achieved a certain notoriety at least, were usually about revenge of some sort or righting a wrong that had been done to someone. They were also notorious for playing up the reputations of cowboys and lawmen in one way or another. Lawmen could be the bad guys while the outlaws were those that were just as bad but had a reason to be seen as the heroes, as was the case in Young Guns. Or the lawmen were simply too ineffective in their former roles and had to come back as outlaws, or something entirely different like in High Plains Drifter.
The whole point of a western was that it was set somewhere in the west, either in the high desert, which was popular, or in the wooded fields that were prevalent at one point in The Good, The Bad, and The Ugly. So far The Ballad of Lefty Brown looks like it's fairly diverse but sticks mostly to the desert, which has been shown to make tough men even tougher and outlaws that much more desperate to take what they want for a living.
The main idea seems to be that Lefty, played by Bill Pullman, is a guy that no one really depends on, but is the only guy to really look to when his partner is killed and justice is desired. Lefty goes on the hunt by himself initially but picks up another couple of partners along the way as they go in seek of the murderer. The entire film reeks of desperation thus far as the hunt is on and everyone seems poised to either lament Lefty's partner or pick up a gun and just start plugging away at anyone that looks disagreeable. In that sense it could make a good western since such films were at times known for their standoffs and fights.
The Ballad of Lefty Brown could indeed be worth a look.
https://www.youtube.com/watch?v=NEN7yaOGF4Y