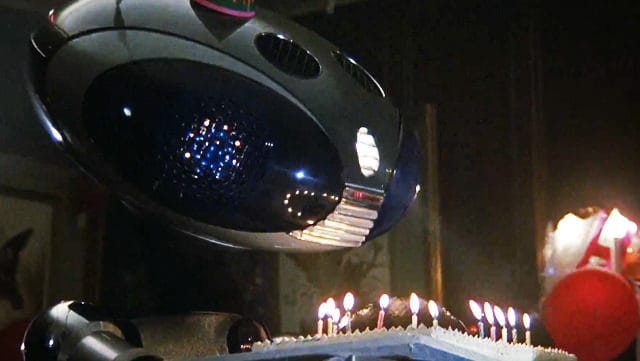 There was a pretty cool reason why there was a robot in Rocky 4, and it really had nothing to do with Paulie. Instead, Stallone's son Seargeoh, who is autistic, was found to respond better to the robot than with people. After having found this out Stallone incorporated the robot into the movie in order to have it on set so as to help with his son. This seems like a very cool thing of Stallone to have done since having an autistic child isn't the end of the world but it does make life a little more difficult since depending on the level of autism a child has they could be a lot more work and would require more attention and patience to work with.
In this manner young Seargeoh at least had his caretaker and father close by, and the robot was a comforting presence that he could cling to if he became somewhat uncomfortable with his surroundings and was upset by too many people. Something tells me that Stallone kept him well away from the hustle and bustle of the set. In fact he didn't even let on that Seargeoh was autistic for a long time, going so far as to limit the time his family was seen in public. It has to be hard raising an autistic child, but at the very least Stallone seems to have been doing something positive to care for his son.
The story of the robot aside from that didn't make a lot of sense to people since it seemed to have no real place in the movie. After all the Rocky series is about boxing, at least when they're showing the boxing parts, and isn't really geared for something this strange. But at the very least the robot was kind of comedic and wasn't there for a good portion of the movie. Plus there was the strangeness that occurred in relation to the robot's voice. Remember that it was neutral when it came out and presented Paulie's cake to him? It was female when he was leaving for Russia with Rocky.
There's actually a story for that. It goes that the robot was complaining about Paulie wearing the same shirt day in and day out and producing too much cigar smoke that irritated its sensors. Somehow Paulie was smart enough to turn the robot off, reach into its back panel and reprogram the thing so that it would speak in a female voice. That's pretty good for a guy that used to work in a meat-packing plant and was only suitable to work as a hired thug afterwards. But then, did anyone happen to notice that Paulie went BACK to the meat-packing plant between Rocky V and Rocky Balboa? And the robot was gone obviously. Once Paulie managed to lose all their money somehow it was probably one of the first things to go.
By the time Rocky V came around I would think that Seargeoh would actually be old enough to not need the robot any longer, which would then facilitate giving it up perhaps. As of now it still shows up at conventions every now and again.