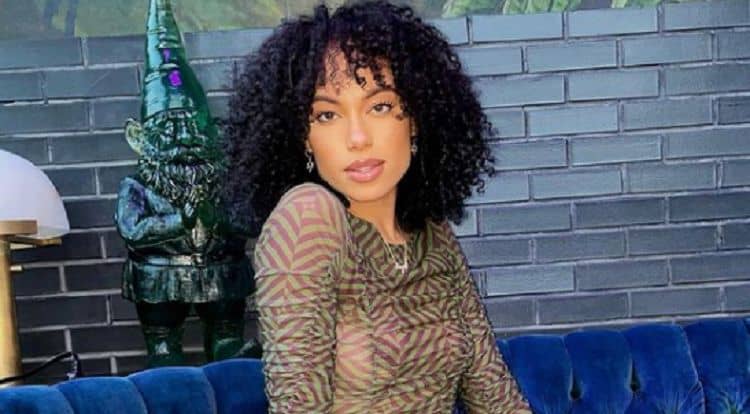 If you've ever been in a long-term relationship, you know that they always come with lots of ups and downs. However, after being with her boyfriend, Lascelles, for more than seven years, Ashley Rodriguez is hoping that the couple can finally get to a place where they have more ups than downs. The two are cast members on the newest season of the USA series Temptation Island, and they're willing to put their relationship to the test in an interesting way. During the show, they have agreed to live in a house with single people of the opposite sex in order to see if their relationship is worth moving forward with or if they'd rather try something different with someone new. Keep reading to learn 10 things you didn't know about Ashley Rodriguez.
1. She Comes From A Diverse Background
We weren't able to find much information on Ashley's upbringing, but we were able to get some details on her ethnic background. Ashley is Dominican, Grenadian, and Irish. She is very proud of all of the cultures that are a part of her. Despite having Latino roots, Ashley revealed that she can't speak Spanish.
2. She's A YouTuber
These days, building an online presence is more important than it's ever been before. This is something that isn't lost on Ashley. In addition to being active on Instagram, Ashley has also worked hard to build a following on YouTube. She and Lascelles have a YouTube channel where they post a variety of videos including vlogs and mukbangs.
3. She's An Entrepreneur
There aren't many people who are able to make a living doing something they truly love, but Ashley is one of the lucky few. She is very passionate about health and fitness and she has been able to turn that passion into a business opportunity. Ashley is the co-founder of a compy called Rod Sisters Detox where she sells healthy detox beverages online.
4. Family Is Important To Her
Even though Ashley is an avid social media user who is on the brink of reality TV stardom, she is actually a pretty private person. As a result, we weren't able to track down many details about her family, but we do know that she has a sister named Victoria who is also her business partner. The fact that she and her sister are able to work together shows that they have a solid relationship. Even when they aren't working, the two love spending time together.
5. She Has A Great Sense of Style
If Ashley doesn't do anything else, she's going to serve a look. She loves fashion and it's one of her favorite ways to express herself. No matter what the occasion is, you can always bet on Ashley to show up and show out. Her love for bright colors and interesting patterns also provides some insight into her personality.
6. She's An Adventurous Person
Some people might see Ashley's pretty face and think she's the kind of person who is afraid to let a single hair fall out of place. That, however, couldn't be any further from the truth. Ashley loves a good adventure and she doesn't shy away from an adrenaline rush every once in a while. Whether it be traveling or jetskiing, Ashley is all about making the most of every moment.
7. She's A Model
Ashley is a natural in front of the camera, so it's not much of a surprise that she has chosen to pursue a career in modeling. That said, it's unclear whether she has worked with any brands at this point in her career. Being on a show like Temptation Island could help her get more modeling opportunities.
8. She's A Brand Ambassador
Ashley may not have the largest social media following, but those who do follow have become a very engaged community. As a result, Ashley is an attractive partner for brands that are hoping to market their products. She has been a brand ambassador for several companies including BIBA Los Angeles and AllWell Beauty.
9. She Doesn't Appear To Have Any Previous TV Experience
From what we can tell, Ashley has not been on any other TV shows in the past. There's also nothing to suggest that she has ever wanted to pursue a career in the entertainment industry. However, after Temptation Island, there's always a chance that she may try to extend her reality TV career by trying to get cast on other shows.
10. She's A Foodie
Eating healthy and taking care of her body are two things that are really important to Ashley. But that doesn't mean she can't enjoy good food. She loves trying new dishes and she is especially interested in cuisine from other countries. This is one of the many things that she and Lascelles have in common.
Tell us what's wrong with this post? How could we improve it? :)
Let us improve this post!