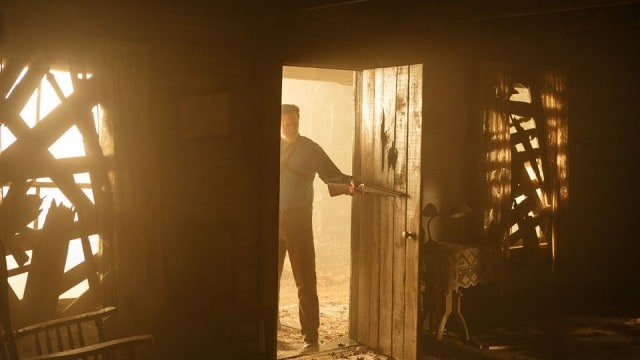 It's almost the end of the first season of Ash vs. Evil Dead, so let's take a look at everything that happened in last week's episode, "Ashes to Ashes."
Note: This review is coming a week late, as I was on a trip last Saturday. This week's review should follow pretty soon.
The episode opens with Ash, alone, finally arriving back to the cabin that began his misery. As he approaches the door, memories of his initial time there begin to flood back to him, and he senses the evil approaching as he is surprised by the return of Amanda Fisher. Even though he wanted to be alone at first, he decides to let Amanda help him out at the cabin.
Ash realizes that he needs to bury the Necronomicon because of his vision, but the memories of his first trip start to overwhelm him more and more as time goes on. He and Amanda separate for a moment while Ash goes to the woodshed behind the cabin, and the viewers learn that his missing hand has made it to the cabin as well.
Meanwhile, Pablo and Kelly still can't find Ash, but they come across some tourists that are able to point them in the right direction. As they begin their final trek to the cabin, Ash is locked in the woodshed as the evil starts calling to Amanda, now alone. Ash argues with the decapitated head of his former girlfriend Linda, still in the shed after all these years, while Amanda happens to come across the journals of Professor Knowby. Before she can read much, Ash comes back and tries to convince her to just run away with him instead. She really starts to consider it, but it turns out that the Ash she's talking to spawned from his former hand as the real Ash is still in the shed fighting the Evil Dead (that makes a lot more sense in context, I promise). Amanda is able to destroy the hand itself, but not before she succumbs to her death at the hand (pun intended) of Evil Ash. Kelly and Pablo enter the cabin just as the two Ashes are beginning to fight, and the episode ends with us unsure of who will be the victor.
"Ashes to Ashes" was an absolute nostalgia trip that turned all of my expectations about what was to come in the series on its head, and I love the fact that this show is continuously able to surprise me in wonderful and unexpected ways. I'll miss Amanda, but her death should give added motivation to Ash, Kelly, and Pablo as we move ever closer to the season finale. There's also still the factor of the mysterious Ruby, who is destined to pop back up sooner rather than later, so there are plenty more surprises yet to come on one of the best new series of 2015.
What did you think of "Ashes to Ashes"? Let us know your thoughts in the comments down below!
[Photo via Starz]