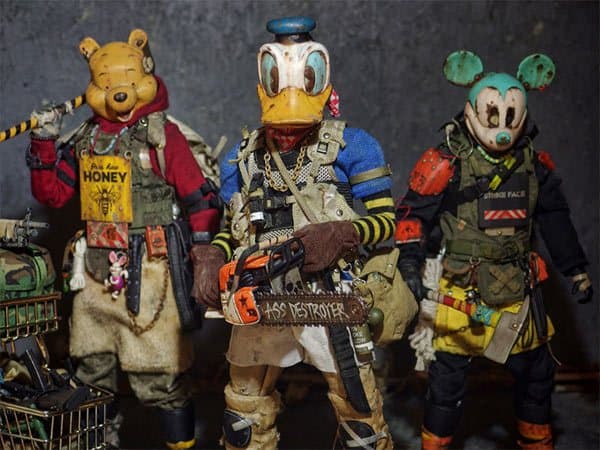 Some artists aren't fully understood when they create things. Take the person that created these post-apocalyptic, Mad Max-type toys from seemingly innocent and visions from out childhood. None of them seem particularly cuddly or cheerful but the menace they inspire is something interesting and comically brutal. The inherent wrongness of the pieces is what makes them so great in a way. The implied mayhem that they might cause while wearing forms that are drawn from cute, kid-friendly cartoons and a savage, post-apocalyptic vision that have collided with such force that this was the inevitable conclusion. It's a safe bet to assume that these new versions of famous cartoon characters wouldn't be found during the one's Saturday morning cartoons.
I'm not sure a Mad Max death squad comprised of Disney characters wielding weapons would be deemed an okay show for children.
Maybe Winnie the Pooh got tired of having to work for his honey and decided that he'd be better served by just chopping the tree down and taking it. The modified bat must be for keeping the rest of the gang away from his honey pots. Pooh looks like he's ready to get down and dirty with anyone that tries to take his favorite snack. The Piglet character attached to his belt is an odd homage nestled in with the weapons and tools that Pooh obviously uses, but it could also be the sign of a weird obsession as well.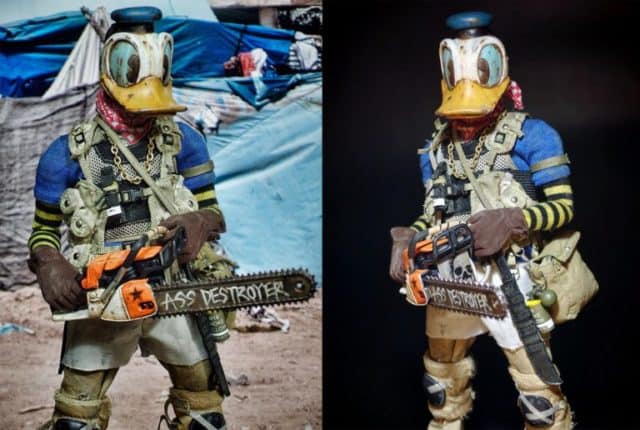 This kind of makes me think of all the times that Donald had an issue with Chip and Dale. Maybe he's finally taking the matter to a different level and playing the part of the literal home-wrecker as he takes matters into his own hands. And if the chainsaw won't do it then maybe the grenade strapped to his belt will finish them off. Considering that the chipmunks often came out on the better end of each encounter however it's possible to think that they would already have something in place that could take care of Donald.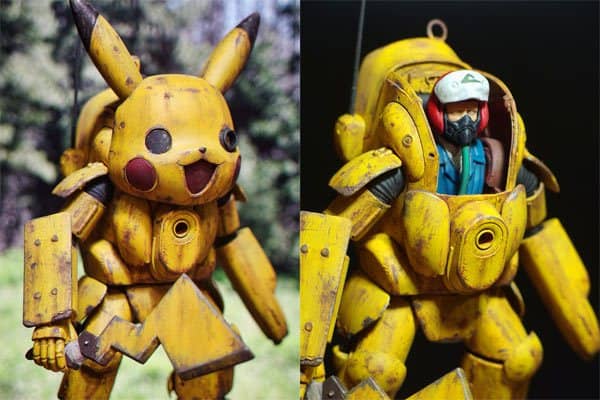 I can just imagine currents of electricity coursing up and down the outside of this suit, arcing and spitting in anticipation of finally channeling it all into one explosive burst or a sustained blast that could annihilate an entire wave of enemies at a time. More than one suit like this in any battle would given anyone a serious run for their money and grant an advantage to the wearer. If it's super durable as well that would be a bonus.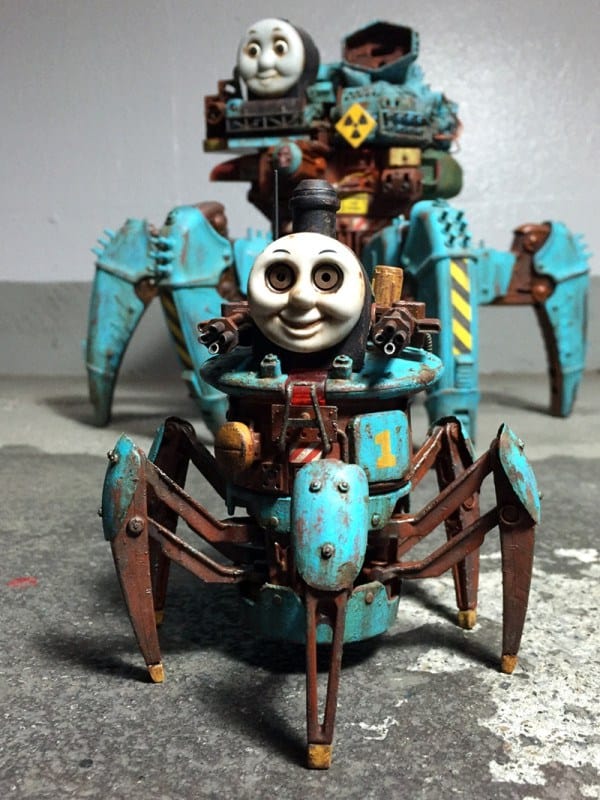 Huh boy, nightmare walking. This seems like something right out of the Wild Wild West movie coupled with the crazy contraptions made by Sid in Toy Story. As if Thomas the Tank Engine wasn't creepy enough, the sunken eyes on the bigger of the two just make it look even more haunted, as though it's the product of some creepy toymaker's worst nightmare. The fact that there are two of them only makes it worse.
This is the stuff that bad dreams are made of…..and it's awesome.