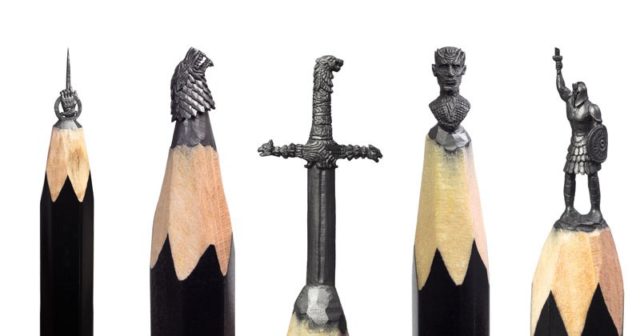 There's a chance you've heard of Russian sculptor and artist Salavat Fidai. If you haven't that's OK because after you see these photos you'll certainly remember his work. Salavat Fidai is world-renowned as one of the leading experts in the field of miniature sculpture, creating intricate and detailed art on the tips of pencils with diameters between 2mm and 5mm. In fact his work is so good that HBO itself commissioned him to do some Game of Thrones work. Fidai creatied 16 Game of Thrones themed sculptures into the tips of fragile graphite pencils.
The 16 pencils on display will include the microsculpture carvings of the Iron Throne; sigils from House Stark, House Targaryen, House Greyjoy, House Baratheon and House Lannister; as well as the Hand Of The King pin; Cersei's new crown; Drogon the dragon; the Three Eyed Raven; the Night's King; a White Walker; the Titan of Braavos; the Weirwood tree; and two swords — Brienne of Tarth's Oathkeeper and Jon Snow's Long Claw.
I can't imagine just how difficult this must be but there's no doubt that graphite lends itself to incredibly accurate detail.
Check out the work below: