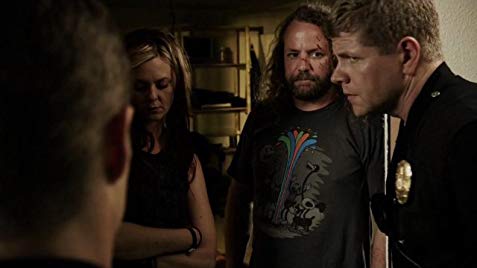 When you hear Ray Porter's name you may or may not know who he is, but if you take a look at the credits that he's gained throughout his career you might at least be a little bit impressed since he's been around for a while and doing his thing for a good number of years. For a period of around 6 years Porter was prominent in a series of educational films that were based upon American history and stories that were found in the bible. He's also been in independent films and even been seen on TV during his career. You could say he's skipped around a bit and it'd be accurate since he seems like one of those that can't quite find a place in one location before he's off to another one and looking to keep things moving along. For some folks this is just the way to live since staying in one place might actually make them a bit uneasy while working as a guest star and then moving on offers them a great deal of freedom that others might not have.
He even managed to show up on Justified and Sons of Anarchy at one point, lending his talents to the shows for a short while before moving on yet again. It's pretty easy to let such folks as Porter slip from the public eye since they show up on a fairly erratic basis and don't always stick around. But then again those that make this a practice do tend to become the support that many shows and movies tend to need since they offer the kind of support that's there when it's needed and then push onward towards something else when they figure it's time to move on. Porter is one of those actors that are hard to figure since they've got a great deal of talent and yet at the same time they don't tend to stick around, or aren't asked to. His talents include acting and voice acting, which you might think would make him more valuable than others, but that doesn't seem to be the case. For whatever reason he's been seen in many different shows and movies and his voice has been used to the betterment of a few movies, but he's not exactly considered to be a big star.
That might rub some people the wrong way but in all honesty it doesn't seem bother Ray, who continues to do what he likes to do and is also a narrator for audio-books as well as a casting director. In some ways it almost seems as though this guy was bound to go through one part after another just trying things out and seeing what he liked. You could say that he was trying on different roles behind and in front of the screen to see what suited him, and if it wasn't working or he felt it was temporary then he didn't mind moving on. Some folks might actually take umbrage at this and suggest that they're worth more than people think but this doesn't seem to be the case with Ray, who has been at this type of career so long now that it would seem that he has no gripe and no real issue with the fact that he's a lesser-known individual that did a few things here and there that some people might remember but a lot won't. That's kind of a sad testament but seeing as the guy gets to do something he likes and he's good enough at it to get paid and get rewarded, then there's nothing else to really be said.
Seriously, how many of us want to be rewarded for what we do and how many of us just want to get paid? For some it's the same thing, for others they want both the pay and the accolades, which is fine since if you're good enough you can get both, but dealing with the fame and attention that comes as a result isn't the same for everyone. It's not as easy as people might think to be famous since those that experience such fame are typically those that don't have a lot of personal time and therefore aren't afforded much of a life since theirs is always under a microscope. One reason it's easy to respect and even feel good about Ray Porter is that he's one of those individuals that got in, did their thing, found something he was good at, and then proceeded with it not because he was getting continual accolades, but because it was something he cared about. Sure the pay is a great incentive, as are the awards that can be won, but if there's no desire to be there then it becomes another job. Even if you don't recognize or know him, Ray's been doing his thing for a while, and he obviously enjoys it.