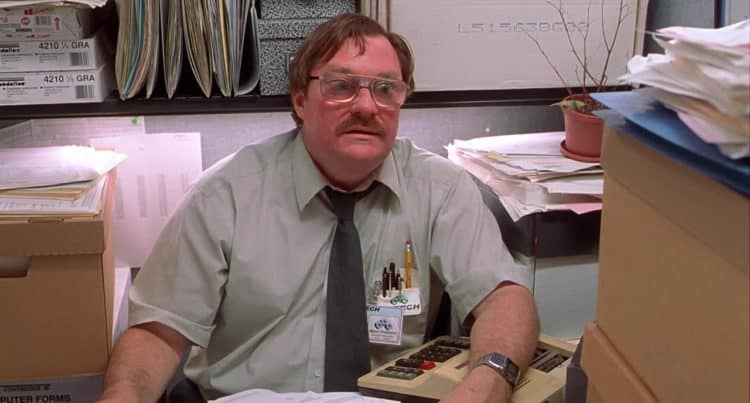 It's interesting at times how people can have different looks and yet be so recognizable, and still be able to impress people with vastly different roles. Stephen Root's acting ability has never really been in question since if you'll recall he's been in some of the most loved cult classic films around and he's played his part in a way that makes him one of the best characters, ever. Robert Ham of Paste actually goes through some of his best roles by describing movies such as Office Space and O Brother Where Art Thou?, bringing to light how he's managed to take on some of the most outrageous characters ever invented and turn them into characters that people either cheer for, root against, or can't help but laugh at.
Funny enough, Milton is the guy that the movie was based on, but he became kind of a byproduct of the show and the guy that got away with everything in the end. This character became the kind of cautionary tale to businesses that like to single out that one person that doesn't seem to fit in with the rest of the group and thereby is an easy target. But for some reason Milton became such an easy character to like that people have been echoing many of his words since the movie became a cult classic. If you didn't know who Stephen Root was at this point then you might not have been paying attention, though after this movie it was hard not to since he put in such a great performance that it was hard to ignore him any longer.
And thankfully he hasn't limited himself to movies since he's showed up on TV as well. One particularly fun memory was when he showed up on the program Malcolm in the Middle and confused Hal for his boss, Mr. Landon. The whole episode Hal had to play it up as though he was in charge and Root's character was fully on board without having a clue. It wasn't one of his best parts but it was still highly entertaining.
Just before you get to thinking that he's a perfect good guy or underdog though Stephen has played some despicable characters in the past as well. In Bicentennial Man, a Robin Williams film that didn't exactly top the charts, he played the head of NorthAm Robotics and had nothing but contempt for Andrew, the family robot that turned out to be much more than the 'household appliance' that his character named him as. This is the kind of character that Root has played in the past and is nothing short of arrogant, condescending, and overall the kind of garbage human being that people tend to root again. But seeing as how he can play that kind of detestable character and then bounce back and become another underdog or good guy is impressive since he can make a person's mood shift in such a way that they might be confused or find that they're riding a roller coaster from one end of the emotional spectrum to the other. That's the kind of actor he is though, and he does it ease it looks like.
All you really have to do to find out how great this man has been throughout the years is look at the work he's produced and how many times he's been noticed for his contributions. The kind of roles he takes on are those that some people stumble over and others can hit but aren't quite as accurate with since they either don't have that kind of versatility or don't seem to employ the same level of skill as Stephen does. Is he the best in the business? No, not really, but he is ONE of the best and it's been proven more times than many people care to count since each time he steps on the screen, be it TV or movie, Stephen is at his best and is going to dedicate himself to the role in order to get it right and make people feel one way or another. A lot of times he's just another piece in the grand puzzle that's waiting to be sorted out, but he's one of those that definitely looks to make his role shine and thus make others look just as good if not better depending on where he sits in the overall design.
This one below is just for fun since it wasn't much of a blockbuster movie, but it was another facet of Stephen's skill and his absolute commitment to make something he's attached to shine just a little brighter. Plus, it was a great chance to let an underdog take the reins again and show what can be done with a little gumption and a lot of luck.
Tell us what's wrong with this post? How could we improve it? :)
Let us improve this post!