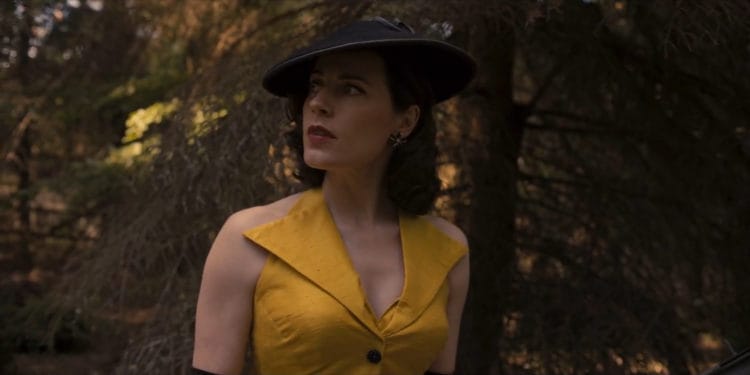 Unlike many other actors in the Netflix series, Dark, Antje Traue, isn't new to American viewers. She made her first appearance in an American production in the 2009 film, Pandorum, in which she had a lead role. However, she is probably best-known for her role as Faora in the 2013 film, Man of Steel. Over the years, Antje has consistently proven that she has what it takes to entertain millions of people all over the world. Working on productions for different countries isn't always easy, but Antje has managed to do it with ease. Now viewers can't wait to see what she has in store for the third season of Dark. Continue reading for 10 things you didn't know about Antje Traue.
1. She'd Never Seen A Superman Movie Before Man of Steel
If you're a superhero/comic book fan, it may be difficult to believe that there are people out there who aren't really familiar with Superman. However, that was definitely the case for Antje – especially before getting the part in Man of Steel. Prior to the movie, she said she didn't have a particular interest in Superman and had never seen any of the movies.
2. She Was A Rapper
Antje's path to acting was a little unusual. Long before she even considering acting, Antje was making a name for herself as a singer, dancer, and rapper. She left school at 16 and began her career as an entertainer. As a teenager, she toured with a Munich based hip-hop opera group.
3. She Bought A Toy Version Of Her Man of Steel Character
Having a starring role in Man of Steel was definitely a game changer for Antje. Not only did the role itself have cement her stardom, but it also immersed her into a whole new world of comic books and heroes. When the toy version of her character, Faora, was released, Antje couldn't help but purchase one.
4. She Never Studied Acting
Since Antje's path to acting wasn't a straight shot, she never attended school for acting or studied it in any formal way. However, she doesn't have any regrets about her journey. She believes that many of the experiences she had, including being a part of the hip-hop opera, helped prepare her for a career in acting.
5. She Was Told Her Face Didn't Fit In Germany
Antje may have a successful career now, but there were plenty of moments where she wasn't sure whether or not she wanted to keep going. In fact, she wasn't offered many roles in Germany because she was told that her face didn't "fit" what they were looking for.
6. She Almost Studied Medicine
After dealing with so much rejection, Antje seriously considered leaving acting behind and studying medicine instead. However, right when she was on the brink of quitting, she landed the role in Man of Steel and her career quickly began to do a complete 180.
7. American Productions Helped Her Gain Confidence
Antje's face may not have fit what German productions were looking for, but it has definitely found a place in the United States. Not only has her success in America helped her career, but it's also helped her confidence. Antje says, " This American principle of finding the beauty in you and not looking for the fault in you helped me a lot."
8. She's Done Theater Roles
Antje definitely know show to light up the screen, but she's also no stranger to the theater world. She's done a good amount of stage productions throughout her career. However, she says she prefers on screen roles. During an interview, she said, "Playing big for the back row wasn't my way of playing. I like it when the camera watches me thinking."
9. She Worked Really Hard To Lose Her German Accent
In order to be cast in American roles, Antje had to work on speaking with an American accent. Even though she has a natural talent for languages, she had to work really hard in order to lose her German accent. When she moved to Canada, she made it a point to practice constantly. She told her friends to correct her if they noticed her saying anything incorrectly.
10. She Believes All Of Her Roles Have Come To Her For A Reason
In a career like acting, you never know what is going to come your way. Fortunately, lots of opportunities have found their way to Antje, and she believes that every role she's gotten has been for a reason. She says that each of her roles have in some way related to her real life.