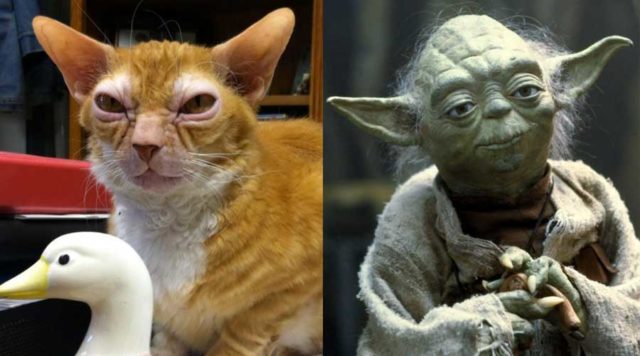 There are many instances out there of owners who tend to look like their pets.  It happens.  Animals and humans can look a like all the time.  In fact many humans dress up their cats or dogs to look either exactly like them or their favorite characters on TV or in movies.   But rarely do we see situations where an animal naturally looks like these characters.  Usually some assistance is required.  It might be a hat.  It might be a costume.  In some way we have to doctor our animals to get that "alike" thing going.
But not in all cases.  In some cases there's just a natural resemblance and when it happens it's pretty funny.  In the pictures that follow you'll see some photos that have a pure resemblance and some where there's a little assistance.  In either case it's pretty remarkable how much these animals look like some of our favorite fictional characters.
I personally love the one of Master Shifu and Grumpy Cat.  That one's pretty awesome.