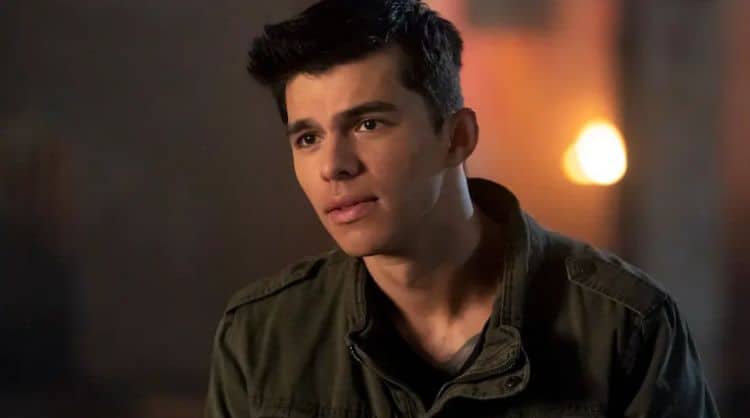 You may not have heard of Andrew Jacobs yet, but that will likely be changing very shortly. He has the perfect recipe for success in the entertainment industry. He is young, handsome, and very talented. Those three things have all come together nicely for him in his career as an actor. Andrew made his on screen debut in 2014, and by 2020 he'd landed a main role in the second season Netflix series, Trinkets. The role has given him the opportunity to share his skills with a larger audience, and he's already getting lots of attention. Although he is just getting started, the possibilities are already seeming endless in terms of what he can accomplish. Continue reading for 10 things you didn't know about Andrew Jacobs.
1. He Has Mexican Ancestry
Andrew Jacobs was born and raised and Los Angeles California, but his family is originally from Mexico. It's unclear whether or not his biological parents were born in Mexico or the United States. Regardless, Andrew is very proud of his Mexican heritage and it continues to play a big role in who he is.
2. He's A Dad
Andrew is the proud father to his young son, who is also named Andrew. Although he was still very young when his son was born, Andrew stepped up to the plate to become the best father he possible could. He and his son have a very close relationship and Andrew loves spending time with him whenever he can.
3. He Grew Up In The Foster Care System
Andrew was placed into the foster care system at an early age. He spent years moving between different foster homes before he was finally adopted by a woman in Los Angeles. Years later, he was able to reconnect with his biological mom and now maintains relationships with both of his mothers.
4. He's A Dancer
Dance has been a part of Andrew's life for many years, and it was actually his introduction into being a performer. He was part of a breakdance crew who regularly performed on Hollywood Boulevard. While his days performing as a dancer may be over for now, he still loves to dance for fun.
5. He Hopes To Work With Leonardo DiCaprio One Day
Every actor has at least one person in the industry they've always dreamed of working with. When asked who this person is for Andrew, he told Pop Horror, "I've always loved his work and everything about Leonardo DiCaprio. If one day, I got to work with him, that would be awesome. He's my favorite all around."
6. He Would Love To Be Part Of The Marvel Universe
Super hero films have always been incredibly popular. People love watching the good guys save the day, and the fact that super powers are involved is always a nice added bonus. In an interview with Entertainment Focus Andrew said, "If I had to choose a franchise to be a part of it would definitely have to be the Marvel Universe. It might sound funny to others but it's what I grew up watching and I also have a son and it would be so cool for him to go to his friends and be like look "My daddy is a superhero." That would be something!"
7. He Enjoys Spending Time Outside
Andrew loves his job and is thankful for all of the opportunities it has given him, but like everybody else, he always appreciates getting the chance to relax. When he isn't busy with work, Andrew enjoys spending time outside. He enjoys things like swimming, hiking, and of course, dancing.
8. He Fell In With The Wrong Crowd At A Young Age
Andrew's path to success wasn't without its detours. When he was younger, he "made bad choices" and fell in with the wrong crowd. There's no specific information on what those choices were, but they were clearly leading him in the wrong direction. However, the birth of his son inspired him to start making more positive decisions.
9. He Started Taking Acting More Seriously When He Became A Father
Even though Andrew has always loved to perform, being an actor wasn't always in his plans. Although he did some acting as a teen, his primary focus had been dance. After his son was born he decided to give acting a serious shot and it didn't take long for him to start seeing success.
10. Paranormal Activity Was Only His Third Audition
I wasn't exaggerating when I said that Andrew's success didn't take long. In a video with LatiNation, Andrew revealed that his audition for Paranormal Activity: The Marked Ones was only the third audition he'd been on. It looks like the third time really is a charm after all.
Tell us what's wrong with this post? How could we improve it? :)
Let us improve this post!