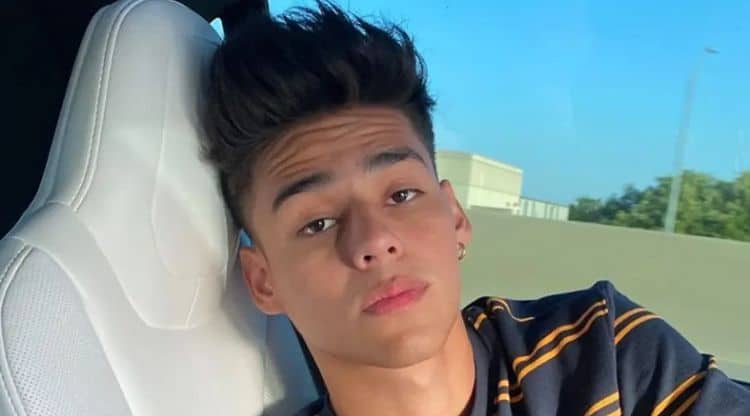 Move over millennials, Gen Z runs the internet now – and influencers like Andrew Davila are proof. With years of being an influencer under his belt, Andrew has a following that reaches across multiple platforms and includes over a million people. Known for his modelesque photos, Andrew has stolen a lot of hearts. But there's much more to him than just his looks. His sense of humor and humble disposition have served to make him even more likable. Andrew's popularity is about more than just being added to someone's Man Crush Monday list, though. His platforms have allowed him to work with brands, and he will likely get even bigger opportunities in the future. Here are 10 things you didn't know about Andrew Davila.
1. He Loves Soccer
Andrew may not be a competitive athlete, but he loves sports and often plays basketball and soccer as a way to unwind. In fact, if it hadn't been for social media, Andrew may have worked towards a soccer career. However, being an influencer will probably get him even more attention than playing sports.
2. He Was A Member Of Sunset Park
Andrew has his own YouTube channel, but for a while, he was a member of a collaborative channel called Sunset Park. In addition to Andrew, the group consisted of Ethan Bradberry, Alan Stokes and Alex Stokes, Coby Persin, Moe Bradberry, and Moe Adams. Sunset Park hasn't uploaded a new video in two years.
3. He Started On Social Media In 2014
Many of the most popular influencers are relatively new to social media. In fact, there are some people who have built their entire fanbase during quarantine. However, that isn't true for Andrew. He's actually somewhat of an OG in the internet world. He started posting on social media in 2014 and started getting attention after an Instagram page shared one of his photos.
4. He Would Love To Visit Area 51
Andrew had gotten the chance to travel and visit lots of places over the years, but if he could pick once place he would love to visit, it isn't somewhere most people would think. Instead of wanting to go somewhere tropical and fun, Andrew wants to visit Area 51. Like most people, Andrew is curious about what's being hidden at the location and he would love to uncover the truth about the alleged experiments and alien activity.
5. His First Name Isn't Andrew
Everyone knows him as Andrew Davila, but his first name isn't actually Andrew. His government name is David Andrew Davila, however, he has always gone by his middle name on social media. It's unclear if people who knew him before his success refer to him as David or Andrew.
6. He's Never Had A Girlfriend
There are probably millions of girls who would love to get the chance to go on a date with Andrew. The good news is that he's single, but surprisingly, he always has been. That's right, Andrew has never had a girlfriend. Although he doesn't appear to be going out of his way to find love, he seems open to the possibility of it finding him.
7. He Left High School During His Junior Year
Balancing high school and a booming social media career isn't an easy thing to do. For that reason, Andrew decided to leave high school during his junior year. He returned to school the following year to complete the 11th grade. However, he left school again and still hasn't completed the 12th grade.
8. He's From Texas
Andrew was born and raised in Dallas, Texas where his family still lives today. Like many other influencers, he decided to move to Los Angeles to help further career. He currently lives in L.A. with his best friend, his editor, and their adorable golden retriever puppy, Tokyo.
9. He Doesn't Have A Driver's License
One of the most exciting things about being a teenager is finally getting a driver's license. But since Andrew's teenage years weren't exactly 'normal' that's one thing he still hasn't gotten to experience. Even though he just turned 20-years-old, he still hasn't gotten around to getting his license. However, he says that he does know the basics of operating a car.
10. Spanish Is His First Language
Both of Andrew's parents are Mexican. Many of his followers have wondered if he can speak Spanish and the answer is yes; he speaks Spanish fluently. He actually learned how to speak Spanish first. Andrew continues to speak Spanish when he's at home with his family. Although his parents do speak English, he says that their Spanish is much better.
Tell us what's wrong with this post? How could we improve it? :)
Let us improve this post!