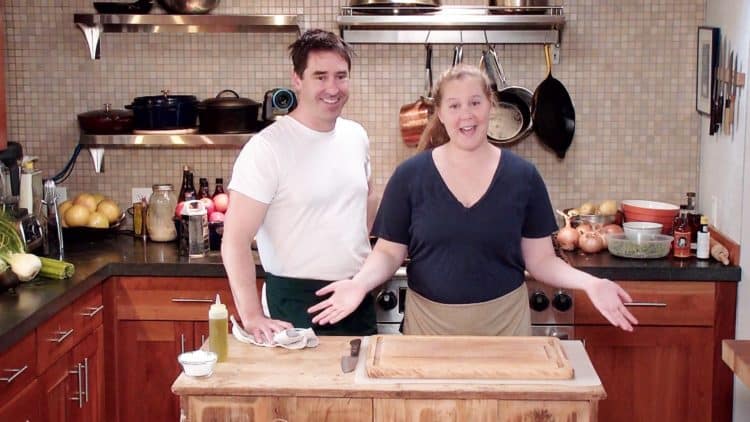 Amy Schumer probably isn't someone who comes to mind when you think of cooking – until now that is. In May, Schumer became the star of her very own cooking show, Amy Schumer Learns to Cook. As the show's title suggests, the show is less about Amy making things on her own and more about her learning how to cook from her co-star and husband, Chris Fischer. The show initially started as an experiment during quarantine, but it ended up becoming a hit and it's officially back for a second season. While the official lockdown has ended, most people are still spending a lot of time in the house, and of course, looking for new things to eat. Keep reading for 10 things you didn't know about Amy Schumer Learns to Cook.
1. The Family's Nanny Films The Show
With production still shut down across the entertainment industry, networks have had to come up with creative ways to make new content. The result of that has been series that are entirely self shot. Amy Schumer Learns to Cook is no exception. The show is filmed in Schumer's home by her son's nanny, Jane.
2. Amy Makes Donations To Charity Through The Show
Not only is the show about making good food, it's also about giving back to a good cause. While sharing her excitement for the show's second season, Schumer said, "Chris and I are proud to be partnering with Food Network to donate to Colin Kaepernick's Know Your Rights Camp whose mission is to advance the liberation and well-being of Black and Brown communities through education, self-empowerment, mass-mobilization and the creation of new systems that elevate the next generation of change leaders."
3. You Can Find Recipes From The Show On The Food Network's Website
There's nothing worse than watching someone make something delicious and then having no idea how to make it yourself. The good news is that you won't run into that issue when watching Amy Schumer Learns to Cook. The recipes featured on the show are all posted on TheFoodNetwork.com.
4. Amy And Chris Aren't The Only People On The Show
Amy and Chris are certainly the stars of the show, but since it's filmed in their home there will be some occasional pop up appearances by their son, Gene, Jane, and the family's dog, Tatiana. Actually seeing the show from Schumer's kitchen definitely adds an intimate feel.
5. Viewers Will Also Get Some Relationship/Life Advice
Even though the show is focused on cooking, that isn't the only thing it's about. For starters, there's no way you were expecting to watch something starring Amy Schumer and not get a little comedy in the process. Additionally, viewers will get some nuggets of advice through Amy and Chris' conversations while they cook.
6. Chris Is Really A Chef
Some people may be wondering what makes Amy Schumer and Chris Fischer qualified to have a cooking show. The answer is simple: Chris Fischer is actually a professional chef. He has cooked at high-profile restaurants in New York and Europe and wrote an award winning cookbook called The Beetlebung Farm Cookbook.
7. Amy Is In Charge Of The Drinks
Amy may not be an expert in the kitchen, but making drinks is her area of expertise. She spent years working as a bartender and her experience definitely comes in handy on the show. The good news is that Amy's drink recipes are also added to The Food Network's website.
8. The Show Is Meant To Help Amy Gain Confidence In The Kitchen
Amy isn't a great cook and as a result has often avoided spending time in the kitchen. The fact that she married a chef also means that she's been able to get away without cooking for longer than most people would be able to. In addition to being entertaining, another goal of the show is to help Amy feel more confident in the kitchen.
9. Season 2 Will Have Four Episodes
These days, it's always nice to know how many episodes a season will have before you get too invested. Knowing ahead of time helps you properly set your expectations. With that being said, season two of Amy Schumer Learns to Cook will follow the same format as the first season and have four episodes.
10. The Recipes Are Viewer Friendly
What fun would it be to have the recipes for everything made on the show only to find out that you have to be a professional chef to pull it off? Fortunately that won't be the case. All of the dishes from Amy Schumer Learns to Cook are pretty simple. Even if you don't have a lot of experience in the kitchen, you can still whip up something good.