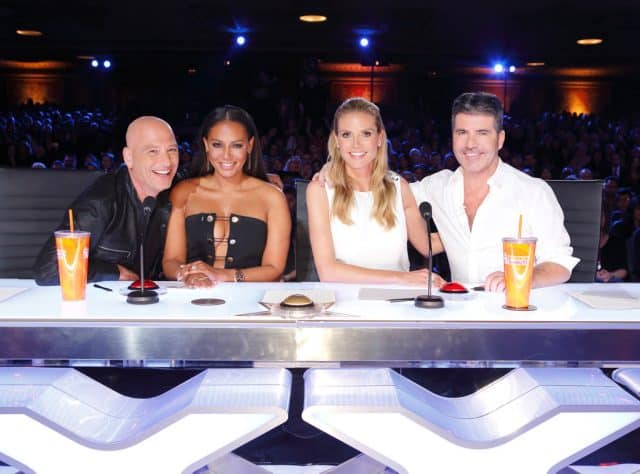 I have been a fan of America's Got Talent since it premiered back in June 2006. Now in its eleventh season, the talent level has gotten higher than ever. That is if you don't count the various not so talented acts that seem to worm their way in to audition for the judges and in front of a huge crowd. I tend to roll my eyes when I see these acts perform onstage, but I do give them credit for having the courage to go out there and perform their craft.
The night started off with a little boy named Nathan, who happens to be a comedian. At first, I thought that he was going to tell jokes that have been told before given that his parents are the ones helping him write the material. It surprised me to hear after his performance that he writes his own jokes and his Mom types them up for him. I didn't laugh too much at his jokes, aside from his comment to Simon Cowell about wanting to be paid in a million LEGOs instead of the million dollars, but they did bring a smile to my face.
When Jose Fuentes came onstage with his Golden Retriever Carrie, I was a bit turned off when he said that he and his dog are going to dance together. The performance was like something one would see on a home video rather than on a big stage. Compared to other dancing dog acts that have graced the AGT stage over the years, this one doesn't quite measure up. The judges ended up putting Jose and Carrie through to the next round, but I have a feeling that once the competition starts, they're not going to make the cut the second time around. The same goes for the singing and dancing couple Charles and Rose.
There were a couple of acts that made me gasp in both surprise and shock in this first episode of season eleven. The Clairvoyants put their mental connection to the test as Amelie accurately described each of the items that were chosen down to the smallest detail. The lipstick from Heidi, a random audience member's cell phone, and Howie's eye drops. Patrick Jane would be proud.
Another act that surprised me was the interactive magic performance by Hara. I had seen a brief glimpse of his performance when the show went to commercial, and I waited with as much patience as I can muster for him to come onto the stage. Granted, he doesn't do a lot while onstage, but there aren't a lot of magicians out there who can turn themselves into a virtual dove. Unless, of course, they graduated from Hogwarts.
As the episode drew to a close, the second to last act of the night was a little thirteen-year-old girl named Laura Bretan. I had a feeling that her act was singing opera, and I was right. Her voice was good, but Jackie Evancho's was a bit better. Though it could be due to nerves as Laura had said before, she started to sing that she was feeling rather nervous. I'm happy that Laura got the Golden Buzzer from Mel B, which sends her straight to the live shows at Radio City Music Hall. Hope she can stack up against the other acts that will soon be joining her.
The final act of the night was a retired construction worker named Greg, who is a self-proclaimed danger aficionado. I was looking forward to seeing what his dangerous act was going to be, but all he did was belly flop into a kiddie pool filled to the brim with shaving cream. The act itself had no danger element to it whatsoever. If he had climbed a ladder to a diving board or something that gets him high above the stage and then jump into the pool of cream, then that would have a bit of danger in it. The show usually saves the best acts for last, but they're off to a not so good start. Then again, seeing Nick Cannon and the judges all covered in shaving cream was very highly amusing.
Photo via NBC
America's Got Talent Season 11 Episode 1 Review: "Auditions"
Summary
It's a new season of America's Got Talent and the return of Simon Cowell to the judging panel.