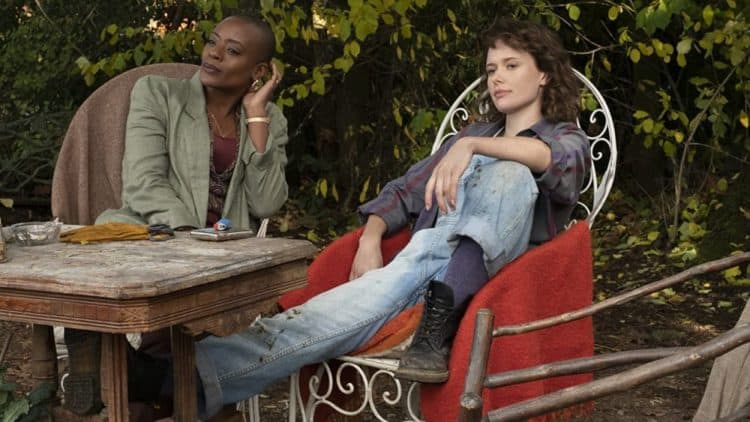 2020 has been a huge year for Amelia Eve's career. After several years of roles in short films, she finally got a break out opportunity when she was cast as Jamie in the Netflix series, The Haunting of Bly Manor. Amelia's character is a somewhat mysterious but kindhearted gardener who works on a haunted property in England. Despite being her first major role, viewers would never be able to tell. Amelia's talent shines through every time she appears on screen. Since the show's debut, she has gained a lot of new fans and people are already anxious to see what she's going to do next. Keep reading for 10 things you didn't know about Amelia Eve.
1. Being Cast As Jamie Changed Her Life
Every actor looks forward to the moment when they get the opportunity that will finally prove that all their hard work has paid off. For Amelia, that opportunity was being cast in The Haunting of Bly Manor. During an interview with Back Stage, she said "Booking the role of Jamie in The Haunting of Bly Manor has been life-changing in many ways. It is an experience I am still learning from and one that I will be eternally grateful for."
2. She's From London
Amelia is a native of London which is where she still lives today. London is in a different part of England than where her character was from. This means that the northern accent you hear Jamie speaking with isn't actually the accent Amelia has in real life.
3. She Loves To Explore
The entertainment industry is full of crowded events and flashing lights, but it's really the simple things that Amelia enjoys the most. She loves to spend her free time appreciating the beauty of the outdoors and exploring different areas including paths and hiking trails.
4. She's All About Positive Vibes
Amelia has had a lot of ups and downs on her acting journey, but she has never let the low times result in negativity. Instead, she is someone who always likes to find the positivity in situations. She told Back Stage, "when you give out the positive frequencies of joy, encouragement, and hard work, the universe is more willing to return the favour."
5. She Supports Activism
Social justice is something that is near and dear to Amelia's heart. She is a firm believer that people of all races, backgrounds, adn experiences should be treated fairly and she isn't afraid to share her opinions with the world. The link in her Instagram bio goes to a page of resources people can use to educate themselves on the fight to end racism.
6. She Isn't A Big Believer In The Supernatural
Supernatural elements are a huge part of The Haunting of Bly Manor. But while Jamie had to deal with lots of ghostly things, Amelia isn't really into ghosts IRL. She told Brief Take that she is "undecided" on whether or not she believes in ghosts. She did add, however, that the idea of ghosts isn't something that scares her.
7. She Encourages People Not To Give Up On Their Dreams
Amelia probably wanted to give up countless times during her acting journey, but she always found a way to push forward. Even though it's not always easy to go after something when things aren't going the way you planned, Amelia encourages people never to give up on their dreams.
8. She Started A Dog Walking Business
Amelia is a huge dog lover. Before fully dedicating herself to acting, she started a dog walking business with her sister. At the time, she saw it as an opportunity to be able to do one thing she loved while also chasing after another. She eventually realized that if she wanted her career to take off, she would have to devout all of her attention to acting.
9. She Likes Her Privacy
So far, Amelia doesn't appear to be the type of actress who likes to share every little detail of her personal life. The interviews she's done so far have been largely focused on what she has going on in her career. Her social media presence also doesn't reveal too many things about her private life.
10. She Likes Scary Movies
There are some actors who have roles in scary movies or TV shows, but don't actually like to watch those kinds of things. Amelia, on the other hand, enjoys watching scary movies, but she told A Book Of that slasher style movies aren't her thing. She also mentioned that she enjoys TV shows that keep you guessing which is exactly what The Haunting of Bly Manor is.
Tell us what's wrong with this post? How could we improve it? :)
Let us improve this post!