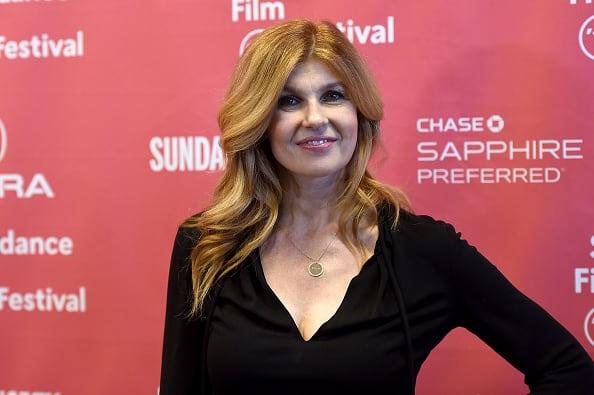 People have been known to say that there are not very many parts on television for women over the age of 40. Well, obviously those people have never met Connie Britton. The actress, who just recently turned 48 years old, has been on three very popular and successful television series since she turned 40: Friday Night Lights, American Horror Story, and Nashville. She is not the only actress over 40 playing a pivotal role on a successful TV series. There is Julianna Margulies on The Good Wife, Mariska Hargitay on Law & Order: Special Victims Unit, and Viola Davis on How to Get Away with Murder. All of these women are Emmy nominated for their roles (we are thinking Davis will come this fall), just like Britton. Here is a look at the back at the successful television career of Connie Britton that dates back twenty years to 1995.
The Mid 1990's (1995-1996)
Connie Britton's first television role came in 1995 when the actress was in her late 20s. She starred in the TV Movie Pins and Needles. She would then appear on three episodes of the comedy Ellen as Heather, Paige's sister. She would attend her sister's wedding and be mad that Ellen was selected as the Maid of Honor and not her. This guest-starring role would then lead to Britton starring in the 1996 TV Movie Escape Clause about a man who is going to be killed by a hit man his wife had hired.
Spin City (1996-2000)
Things were beginning to look bright for Connie Britton in 1996. She was cast in a new sitcom that was going to star Michael J. Fox. The series was called Spin City and premiered on September 17, 1996 on ABC. The series focused on Fox's character Mike Flaherty, who was the Deputy Mayor of New York. Britton was cast as Nikki Faber and was sometimes romantically linked to Mike. Britton would leave the show at the end of Season 4, when Michael J. Fox exited the series due to his battle with Parkinson's Disease.
Friday Night Lights (2006-2011)
After several years of starring in failed TV series and guest star appearances on shows like 24 and The West Wing, Connie Britton was cast in the drama Friday Night Lights, which is inspired by the novel by H.G. Bissinger. Britton had also starred as the coach's wife in the Friday Night Lights film that had come out in 2004 and was adamant about starring in the series after most of her part was cut from the final version of the movie. She was promised that the character of Tami Taylor would be just as important to Friday Night Lights as Coach Eric Taylor.
Friday Night Lights premiered on NBC on October 6. 2006. From the very beginning, the series was critically acclaimed. However, the drama struggled in the ratings. In order to keep the series on the air, NBC sturck a deal with Direct TV to allow the cable distributor to air new episodes with NBC airing them a few months later. This tactic worked well, and Friday Night Lights ran for a total of five seasons. Connie Britton was nominated for two Emmy Awards for her performance during the final two seasons.
American Horror Story (2011)
Ryan Murphy had already found success on television with Nip/Tuck, which aired on FX from 2003-2010, and Glee, which premiered on FOX in 2009, when he, alongside Glee co-creator Brad Falchuk, decided to create another television series called American Horror Story. The first season began airing on FX on October 5, 2011. It was the highest rated premiere episode for any show that aired on FX. Connie Britton was the first actor to be cast. She played matriarch Vivien Harmon, whose husband Ben (Dylan McDermott) has been unfaithful. They have one daughter named Violet played by Taissa Farmiga, who has also appeared in Season 3 of American Horror Story, which was subtitled Coven. In the show's first season, the Harmon family moves into a haunted house, and all members of the family end up dying due to the spirits that also live there.
Britton was nominated for an Emmy Award in the category of Outstanding Leading Actress in a Miniseries or Movie. This nomination would be her third time being recognized for her work on television in the same amount of years.
Nashville (2012-Present)
Connie Britton was well aware that each season of American Horror Story was an anthology series, meaning that each season of the show would center on new characters and a new story, so she was free to look into other television projects during the 2012 pilot season. She also was able to take some time off to spend with her newly adopted son. Britton was in high demand and was attached to a show called Nashville that depicted the lives of several country music singers. Britton was cast in the lead role of Rayna James and Hayden Panettiere won the role of rising starlet Juliette Barnes. The pilot aired on ABC on October 10, 2012 and was well received by the critics. Britton would receive her fourth Emmy nomination in four years for this role. The series received a People's Choice Award nomination in the category of Best New Series.
Connie Britton did not have a background in signing prior to obtaining the lead role on Nashville. She spent many hours with a vocal coach in order to deliver many of the show's powerful ballads. The rehearsing paid off, as many fans could not tell that Britton had never sung prior to being cast on the drama. Aside from starring on Nashville, Connie Britton also serves as executive producer on the series. It has not yet been confirmed if Nashville will be renewed for a fourth season; however, downloads of the original songs and possible syndication deals make it a worthy contender.
Britton has also been able to work on several movies during her time on Nashville. In 2012, she starred in Seeking a Friend for the End of the World and The Fitzgerald Family Christmas. The following year Connie Britton would appear in The To Do List and Angels Sing. In 2014, she also had a role in This is Where I Leave you and has two films due out later this year.
What is your favorite role that Connie Britton has played on television? Let us know in the comments section below.
Photo by Amanda Edwards/Getty Images for Sundance