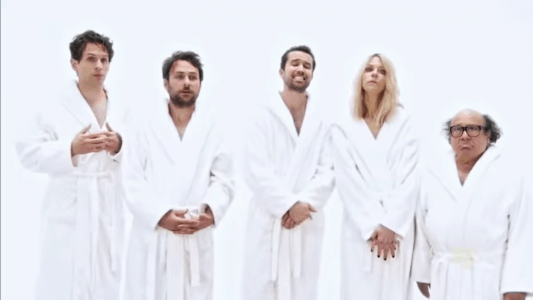 It's Always Sunny in Philadelphia is never afraid to touch any subject, instead embracing controversial topics and putting their own comedic twist on them. While they've played with the idea of religion and Mac's not-so-secret homosexuality, tonight's episode was entirely focused on that, as Mac took the gang aboard a Christian cruise ship. Wanting to take a break from their normal routine, including the deadly sins that they each feel they most commonly commit, they agreed to go along with it. In the end, it led to quite a few interesting revelations from Mac in what was overall a solid episode of It's Always Sunny.
For Dee, Dennis, Frank, and Charlie this Christian cruise represented a chance for them to overcome three of the seven deadly sins that they are most guilty of committing: wrath, lust, and gluttony. Even though they weren't sold on the religious aspect of the cruise, they still saw it as an opportunity to take a vacation and at least temporarily try to better themselves. But as we've seen so many time throughout the show's run, old habits die hard and the gang can never truly change who they are at their core.
Dee's fight against wrath was perhaps the highlight of the episode, as she tried to reign in her anger at another woman stealing the chair she wanted to sit on by the pool. Feeling that her wrath could be controlled much more easily if she stayed far away from the gang who constantly made fun of her, she tried to keep her distance. But they always end up back in each other's orbits and this episode proved that even when Dee isn't getting sh*t on or called a bird by the group, these things will always haunt her. Fate can't be stopped, as proven by a real bird actually taking a sh*t on her, in the best comedic moment in the episode. In the end, she wasn't able to control the wrath she felt towards the woman who stole her chaise, causing all of this to happen, ultimately punching her in the face. Kaitlin Olson nails every scene in which Dee's wrath comes out, as she hovers on the edge of psychotic. And really, no one was surprised when Dee was the first one sent to prison on the ship.
In time, Dennis also found himself thrown in the ship's prison due to his uncontrollable deadly sin of lust. There are few people that can pull off the 'creepily flirting with someone who is barely legal' gag as well as Glenn Howerton did in this episode, showing that despite his efforts to appear normal, Dennis will always let his lust get the best of him. He may be actively trying to appear nonthreatening but just by being himself, that creepiness will always come out and there's no doubt that in this instance, it should have landed him in the boat's prison.
Charlie and Frank were quick to follow the two siblings and really, they didn't even make an attempt to reign in their biggest sin: gluttony. Despite the cruise being dry, they carried their own beers on board and stored them in their jackets so that they would always be easily accessible. Of course, it became quite obvious what they were doing, as their puffy jackets seemed out of place on a cruise ship, and they were caught. They couldn't stop there, next trying to drink actual gas from the ship, landing them right next to Dee and Dennis in cruise prison. Out of everyone, they're probably the two that most accept their sins because really, they don't care at all. There's no need for them to deny it or change who they are because it simply doesn't matter to them. Dee, Dennis, and Mac want to think they're not terrible people and hide how dysfunctional they are but Charlie and Frank don't care enough to.
Mac's journey was by far the most interesting out of everyone's this episode. While Frank and Charlie represent caring the least about being good people, Mac probably cares the most because he has always considered himself a religious person. The problem is, Mac doesn't really understand religion at all. He's great at blindly following people and forming crazy ideas about religion in his head, but he never truly gets it. When his beliefs are challenged, his initial response is to argue against it but in the end, he's easily willing to change his opinion to fit whatever his viewpoint of the world is at any particular moment. So despite walking into this episode with the strong belief that God existed and that we need to be punished for our sins, he walked out of the episode with a completely different viewpoint.
Having met the two men at the head of this 'religion' and realizing that they were gay, Mac finally realized that he too was gay. And the only conclusion he could draw from this that could fit into the view of the world that he wants to have is that this must mean that God doesn't exist because God would never make Mac gay. He was willing to flip so easily, unsurprising based on what we've seen from Mac in the past. With the group all coming to these different realizations about themselves, the episode ended with all of them trapped in the ship's prison with a terrible storm quickly approaching. We'll have to tune in to next week's season finale to see if they can escape their own version of h*ll and to see if Mac really has given up on religion all together.
Tell us what's wrong with this post? How could we improve it? :)
Let us improve this post!