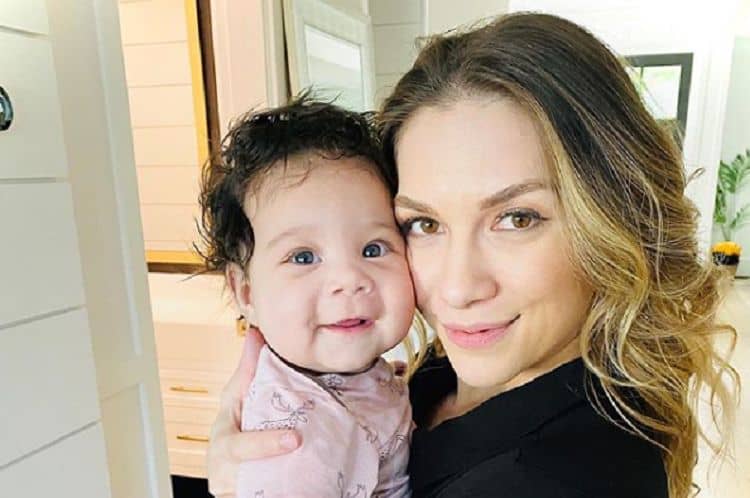 Allison Holker is an American dancer who is best known for her appearances on the competition television series "So You Think You Can Dance," but her career goes much further than that. She became famous in the second season of the show when she entered the competition, and she was invited back for the all-star segment of the show during the 7th through 11th seasons, then again for the 14th. We wanted to know more about her so we looked into her career history and made some great discoveries. Here is what we learned.
1. Her Birthday
Allison was born on February 6, 1988. She recently turned 32 years old. She was born in Anoka County, Minnesota, which makes her a native of the midwest. She went to school at Timpanogos High School and she has since moved to Orem, Utah which she now considers her home town.
2. She has a family
Allison is married and she has a family of her own. She wed Stephen 'tWitch" Boss in 2013. The couple is still together and they have two lovely children together, and Allison has a child from a previous relationship. She sometimes goes by the name Allison Holker Boss. Her first child Weslie Renae Fowler was born in May of 2008, a daughter from her relationship with an ex-boyfriend. Her second child is Maddox Boss, born in March of 2016 with her husband Stephen Boss and their third child, Zaia Boss was born in November of 2019.
3. She began her dance career as a child
Allison was just nine when she took her first dance lesson. She enrolled in classes at The Dance Club which is a studio in Orem, Utah. She developed a fondness for jazz, ballet, tap, and contemporary dance. She made these forms of dance her specialty. She had a natural talent and the training she received helped her to fully develop her potential as a professional performer.
4. She performed at the 2002 Olympic Games
Allison Holker was invited to dance at the 2002 Olympic games. She performed with the legendary band Eart, Wind, and Fire at both the opening and the closing ceremonies for the event. This gave her exposure to a host of other opportunities as the entire world was watching both performances.
5. She was a teen competitor
Allison began entering dance competition in the year 2004. This was two years before she graduated from high school. She won "Company Dance" in Colorado in 2004. She also won the New York City Dance Alliance competition in 2005, just a year before she finished her high school studies. Remarkably, she was able to keep up with both without missing a beat.
6. Allison became a famous dancer
In 2005, Allison Holker was privileged to dance in the Ballroom with a Twist Tour. These performances were choreographed by Louis van Amstel of "Dancing with the Stars." She performed in "Revolution," which was a tap show. In addition, she danced in the second season of "So You Think You Can Dance in 22005-6. She was also a performer in the "So You Think You Can Dance Tour" invited along with the other top 6 dancers in the competition.
7. Holker is also a teacher
Allison is not only a competitor and performer, but she also teaches others to dance. She has been involved in a variety of different dance workshops and conventions. Allison has taught a variety of different dance forms throughout the entire nation. She is an excellent instructor who is simply sharing her passion and her talents with others. Most notably, Allison has been teaching dance since she was just 14 years old.
8. Allison has also appeared in television
Holker is also a professional actress. She has 7 credits in her acting portfolio. She made her acting debut in 2006, appearing as a Cheerleader Dancer in the TV movie "High School Musical." The following year she played the role of an East High Dancer in the TV movie "High School Musical 2."Allison appeared as a dancer in an episode of the television series "House" in 2011 and in an uncredited role as a dancer in "Footloose" the same year. In 2013, she appeared in the role of Gina in "Make Your Move," and she landed a recurring role as Devil Girl in the television series "Hit the Floor" from 2013 through 2014. Her last known film work was in a video short as herself in "R5: All Night." Allison's amazing dancing career has opened up many more opportunities for her in the entertainment industry.
9. You can keep up with her on Instagram
Allison Holker has an Instagram account and she maintains an amazing resource for her fans on the site. It's plain to see how popular she is by the number of followers that she has on her page. At the last check-in, there were 1.6 million followers. There are tons of great photos to see and so far, there have been 2,543 posts made. She has the photos neatly organized under a series of icons so you can hone in specifically on the ones that you want to see the most to save some time. These include family, dance, family trips, and more.
10. Allison is also a Disney Host
We also learned that Allison Holker is the host of Disney's fairytale weddings. She has a category listed on her Instagram page that is dedicated specifically to Hosting. You will also find other useful links on the page that will take you to other things that she is currently endorsing or directly involved with. Allison Holker has done very well in her profession and we see that she is gaining maturity as an entertainer and beginning to branch out, including yet more facets to her portfolio. She is a star that is still in the process of rising and we're looking forward to seeing more of her in the years to come.