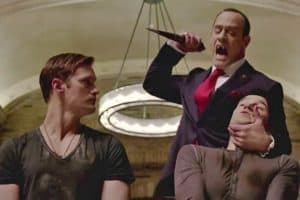 Although most of the vampires on True Blood seem to do what they want, when they want, it turns out there is a very stern ruling force behind the vampire community: The Authority.
In the episode, "The Authority Always Wins," we got to meet this sacred, high powered organization. It was surprising after experiencing four seasons of the lavish lifestyles of vampire royalty, to find that their highest power had more of a simplistic office vibe with strong religious undertones.
Apparently there is a vampire bible and God created a vampire Lilith before creating Adam and Eve. This is an interesting twist to everything we know about True Blood. Best of all, The Authority is ruled by none other than the ultimate Law & Order BAMF Christopher Meloni, known to many of course as Detective Elliot Stabler.
I have to say, Meloni has a strong presence and he definitely brought it with him to the world of True Blood. I'm interested to see how The Authority will handle Bill and Eric's proposal to "Find Russell Edgington or die trying." Sounds very 50 Cent, no?
The bromance and support system between Eric and Bill is a welcome relief to their past spats over power and most of all, Sookie. It's fun to see them team up for something and work together. Of course, I do miss seeing Eric and Pam together since they are arguably the best maker and progeny, but we did get an awesome little peek into the first meeting of Eric and Pam over 100 years ago.
With Eric out of town, I was hoping we'd get to see Pam relish in her role as a maker but I guess we will have to wait until next week. Not much progress was made in regards to Tara's transition to the undead. We pretty much spent the episode watching her spin like the Tasmanian Devil and mess up the house that Sookie finally had cleaned after all the Maened mess from season 2.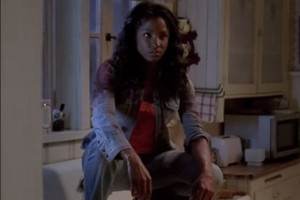 I don't see Lafayette's mental state improving anytime soon, but I can say that I'm more interested in watching his crazy take over, than I am in watching Terry's storyline. It's a shame because Scott Foley is adorable, but I'm just falling for his whole arc.
My favorite scene was between Jessica and Steve Newlin. Everything from the way he sauntered into her house with cheesy dance moves, to the whole "fang boner" incident was just perfectly executed. I love Jessica as a confident vampire who can assert herself. It took her awhile to get there and I'm relishing watching her new attitude toward the world. She is just so much fun this season!
What did you all think of Sam's fight with Luna? Are you team Sam or Luna? He put his life on the line for her, but I do respect her position as Emma's mother. Something tells met that this fight won't last long since Luna is about to have a lot on her plate…baby werewolf in a nightgown, anyone?
While this episode seemed a tad slower than last week's, meeting The Authority definitely made up for it. There's a lot of potential for True Blood season 5 and I, for one, can't wait to see what happens next!
Tell us what's wrong with this post? How could we improve it? :)
Let us improve this post!