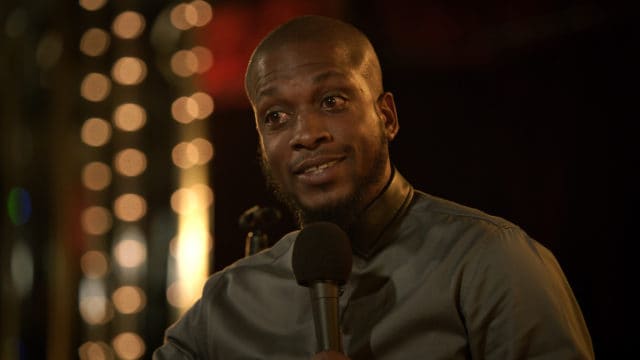 Ali Siddiq began his comedy career in the Texas state penitentiary system, where he served six years of a 15 year sentence for drug trafficking. Years later, his first one-hour special, Ali Siddiq: It's Bigger Than These Bars, finds him back in the cell block, performing stand-up and interviewing inmates and administrators at Bell County Jail in Belton, Texas. Ali Siddiq: It's Bigger Than These Bars premieres on Friday, February 23 at 11:00 p.m. ET/PT on Comedy Central.
Using his signature storytelling style, Ali recounts hilarious experiences from both incarceration and freedom and conducts conversations with jailers and the jailed about life in lockup. Encouraging and inspiring his inmate audience, Siddiq turns hard time into hearty laughs with stories about everything from uncomfortable prison nudity to the time he doused himself in baby oil and refused to leave his cell.
Leading up to the on-air premiere, cc.com and the CC App will feature preview clips from the special. On Saturday, February 24, the full special will be available in the CC App and on CC.com, and on Tuesday, February 27, the extended and uncensored version will be available for digital download. Fans can follow Siddiq on Twitter at @Ali_Speaks and Comedy Central Stand-Up at @standup to join the social conversation around the special.
Ali Siddiq is a stand-up comedian, public speaker, and writer out of Houston, Texas. He began honing his unique style of stand-up behind the walls of prison, mastering the ability to captivate any audience with his compelling stories and hilarious insights. Today, Ali works with at-risk youth and has headlined comedy clubs in the U.S. and abroad, consistently demonstrating his ability to engage diverse crowds and bring them to their feet. Ali has appeared on HBO's Def Comedy Jam and AXS TV's Gotham Comedy Live, and was named Comedy Central's "#1 Comic to Watch" in 2013. Ali's following grew after he enthralled audiences with his "Mexicans Got on Boots" tale, a comical recounting of a prison riot that Ali shared in his first of two appearances on Comedy Central's storytelling series This Is Not Happening. In 2016, Ali's half-hour special premiered on Comedy Central, and in 2017 he began production on the one-hour special that would become Ali Siddiq: It's Bigger Than These Bars.
Ali Siddiq: It's Bigger Than These Bars is executive produced by Chioke Nassor, Stuart Miller, and Ali Siddiq. Christian McLaughlin and Anne Harris are the executives in charge of production for Comedy Central.