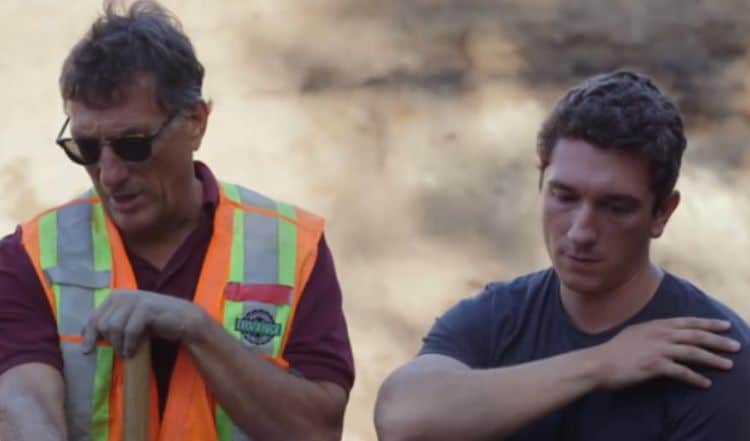 A life that involves reality TV probably isn't something Alex Lagine ever imagined for himself, but thanks to his father and uncle's love for hidden treasure, that's exactly what he got. Luckily for them, the apple didn't fall far from the tree and Alex enjoys hinting for treasure, too. Alex has been a cast member on The Curse of Oak Island since 2014, and since then he has worked alongside his father and uncle to try to uncover the island's hidden treasure. Although the Lagina family has yet to uncover anything of great value, they refuse to give up until they find what they're looking for. Continue reading to learn 10 things you didn't know about Alex Lagina.
1. He's Alive And Well
If there's one thing the internet is good for, it's spreading rumors about people's untimely passing. Alex is one of the many people to have gotten caught up in rumors. There was a story circulating the internet that falesly reported that Alex died while filming an episode of The Curse of Oak Island. That, however, couldn't be further from the truth. Alex is alive and perfectly healthy.
2. He Studied Mechanical Engineering
Helping his father and uncle search for hidden treasure may be how Alex spends a lot of his time these days, but that wasn't always part of the plan. Alex attended the University of Michigan where he earned a bachelor's degree in mechanical engineering. Luckily, treasure hunting has given him a great way to put his engineering skills to the test.
3. His Interest In Oak Island Is A Little Different Than His Dad's
Everyone in the Lagina family appears to have a different interest in what may or may not be buried on the island. During an interview with My North, Alex said, "I would like to see, more than anything, some verification of things that have already been discovered…A lot of things have been done on Oak Island, and while records may have been kept well by one person, they didn't transfer to the next person, so a lot of these discoveries have been lost during all the excavations."
4. He Likes His Privacy
Just because Alex is a reality TV star doesn't mean that he wants to share all of his business with the world. He's actually a very private person who is very particular about what puts out to the public. Even his Instagram account is private and he has less than 10,000 followers which suggests that he probably doesn't approve every request that comes in.
5. Oak Island Isn't His Only TV Experience
The Curse of Oak Island is probably the first thing that come to mind when people think of Alex Lagina, but what some people may not know is that he's also appeared on a couple of others shows. From 2017 to 2021 he was on the Oak Island spin-off series The Curse of Oak Island: Drilling Down. He was also on the show The Curse of Civil War Gold in 2019.
6. He Loves Diving
Alex has a natural love for adventure and this aspect of his personality has served him well throughout the years. He is a trained diver and this skill has been very helpful during search efforts on Oak Island. We weren't able to locate any information on where he learned to dive or how long he's been doing it for.
7. He's Also A Producer On Curse Of Oak Island
From viewers' perspective, Alex spends most of his time in front of the camera when it comes to The Curse of Oak Island. What lots of people don't realize is that he's also an associate producer on the show. Additionally, he was the associate producer of an episode of The Curse of Oak Island: Drilling Down in 2020.
8. He Loves Spending Time With Family
Of course, the thought of finding centuries old treasure is a huge motivating factor for Alex to want to keep exploring Oak Island. That isn't all he's in it for, though. More than anything, Alex loves getting the chance to spend time with his dad and uncle, and being on the show has given him the perfect way to do that.
9. He Might Be In A Relationship
As mentioned earlier, Alex is a very private person and that even holds true for his relationships. According to Celebrity Net Worth, however, he has been in a relationship with a woman named Katherine Sneed. Unfortunately, we weren't able to find any additional information about their relationship.
10. He's Also Involved In The Other Family Business
Searching for treasure on Oak Island isn't the only business the Lagina family has. Alex's father, Marty, is the founder of a wine company called Mari Vinyards. On top of the work he does at Oak Island, Alex is also heavily involved with the family's wine business.
Tell us what's wrong with this post? How could we improve it? :)
Let us improve this post!